Check Out These 69 Fun Things to Do in Orange County, California
(Don't Miss #27)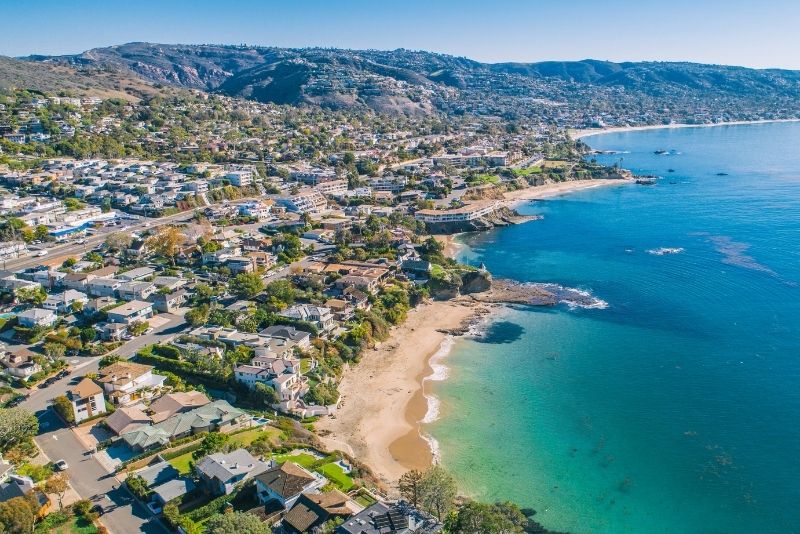 From the wealthy oceanfront mansions in Newport Beach to the sheer magic of Disneyland and the assortment of endless wineries, award-winning museums, and natural parklands, Southern California's Orange Country is as diverse as it is large. It offers an intriguing selection of activities that can be tailor-made to suit any and every style of traveler.
As the state's third-largest county, OC is a veritable melting pot of contrasts, giving visitors an incredible wealth of options when it comes to choosing which unique experiences they wish to sample. From hot air ballooning to surfing, rowdy nightclubs to relaxing spas, a sprawling zoo, and hundreds of miles of sparkling coastline, you'll be tuckered out long before you run out of exciting things to do in Orange County.
Plus, with all the hustle and bustle of Los Angeles (and Hollywood) to the north and San Diego to the south, you can always get to know the region's big-city side too.
1 – Spark curiosity at the Discovery Cube Orange County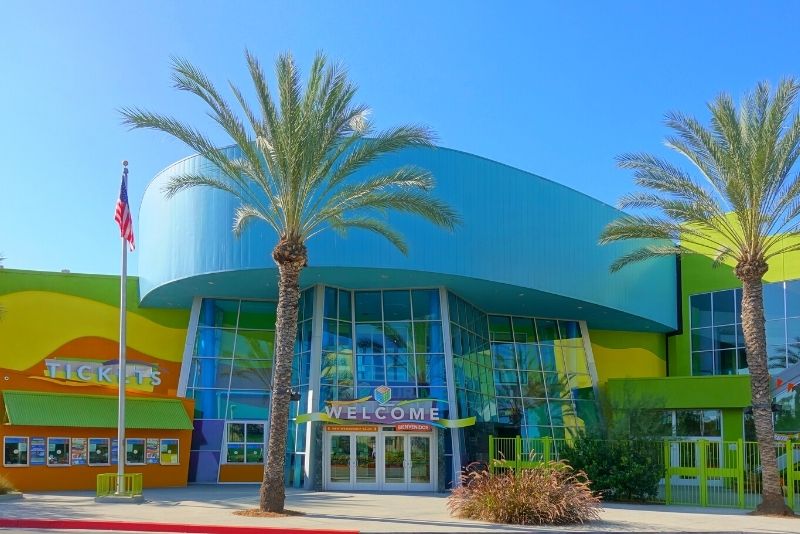 Packed with well over 100 hands-on exhibits and experiences, including a state-of-the-art Physics Lab, Organics Waste Lab, hurricane simulator, and dinosaur section, Discovery Cube Orange County in Santa Ana fuses science with imagination and learning with fun.
With a range of events and educational programs on offer, it's a great spot to take the kids on a rainy day!
2 – Catch some waves at Huntington Beach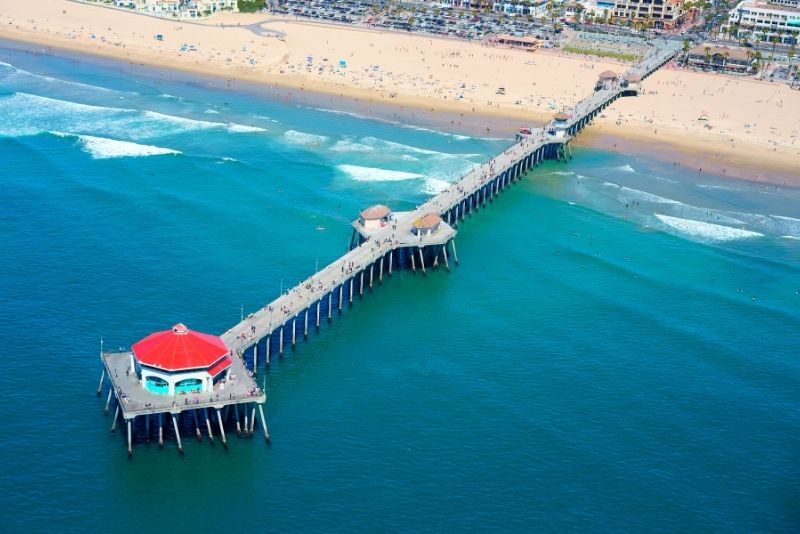 Known for its year-round sun and bright, warm air, California's southern coast is rife with surfing opportunities — and in Orange County, it doesn't come much better than Huntington Beach.
Just 30 minutes south of downtown Anaheim lies Huntington Beach, a hungrily sought-out surf spot that attracts top-class athletes, enthusiastic amateurs, flat-out beginners (thanks to the plethora of lessons available) and everyone in between.
Whether you're after a foamboard or prefer the thrill (and extra challenge and speed) of a fiberglass board, this is definitely an experience to try out!
After catching some waves, end your day with a walk down the famous Huntington Pier — at 1,850 feet long, it's one of the longest on the entire West Coast.
3 – Take the kids to Adventure City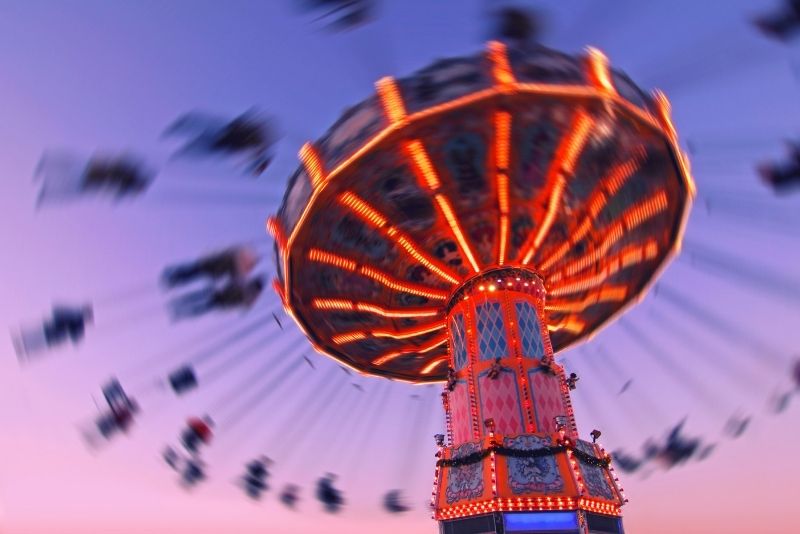 With the majority of tourists flocking to the likes of Disney and Six Flags, Adventure City remains an affordable hidden gem full of family-friendly rides and attractions, and seldom a long line!
Located in Stanton, the laid-back theme park boasts a range of small yet thrilling rollercoasters, a historic carousel dating back to the 1940s, a petting zoo, and the beloved Thomas the Tank Engine zone — where railroad enthusiasts of all ages can create their own unique train track design!
Adrenaline junkies, make a beeline for the 14-meter-tall Drop Zone tower; families, head to the Kids' Theater and enjoy one of the daily shows.
4 – Explore Newport Beach with a boat tour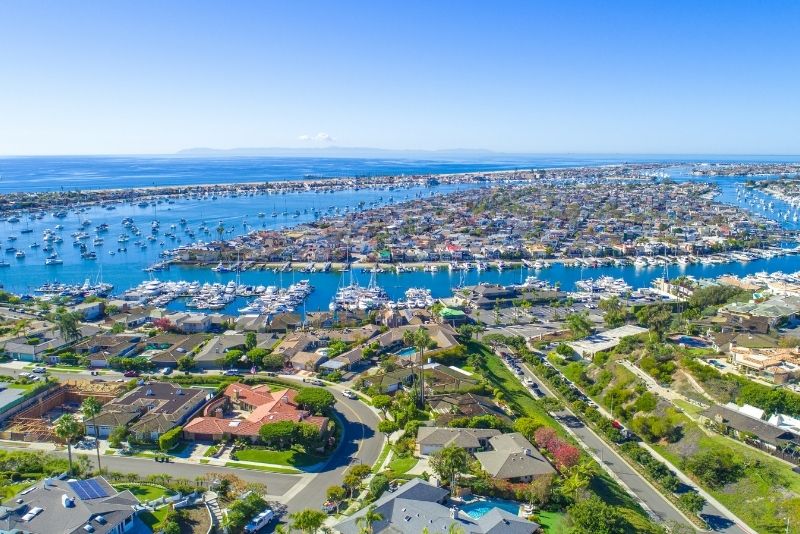 Nested in between Huntington Beach and Laguna Beach, the long golden stretches of Newport Beach sand welcome sunseekers day in and day out, as well as boaters galore in the calm waters of Newport Bay.
A popular spot to check off while in the area, Balboa Island is easily accessible by a direct and scenic ferry, and dishes up a range of notable shops and restaurants, while the Balboa Fun Zone offers outdoor fun for all ages.
If you're looking to soak in all of what Newport and Balboa have to offer, jump aboard a yacht or boat tour and soak in that famous sunset.
5 – Meet the locals at the Orange County Zoo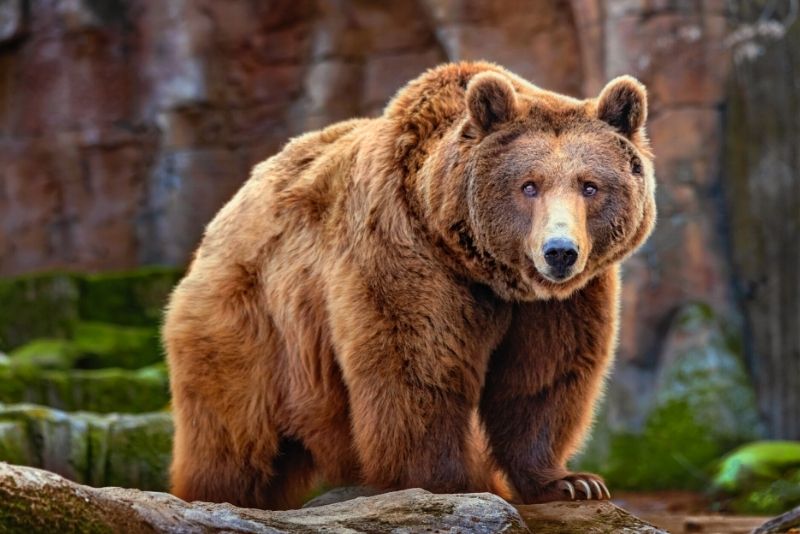 A fun-filled day out for families, the OC Zoo offers an escape from the chaotic hustle and bustle of daily life by dishing up cute and cuddly animals in spades.
Tucked away inside the lush greenery of Irvine Regional Park, it's more than just a zoo — it's a relaxing oasis full of giant sycamore groves that educate visitors about native Californian and southwestern USA wildlife.
At just $2 to visit and get up close with the likes of black bears, mountain lions, bald eagles, kit foxes, and ocelots, it's undeniably one of the best things to do in Orange County.
6 – Experience a slice of Old California at Tanaka Farms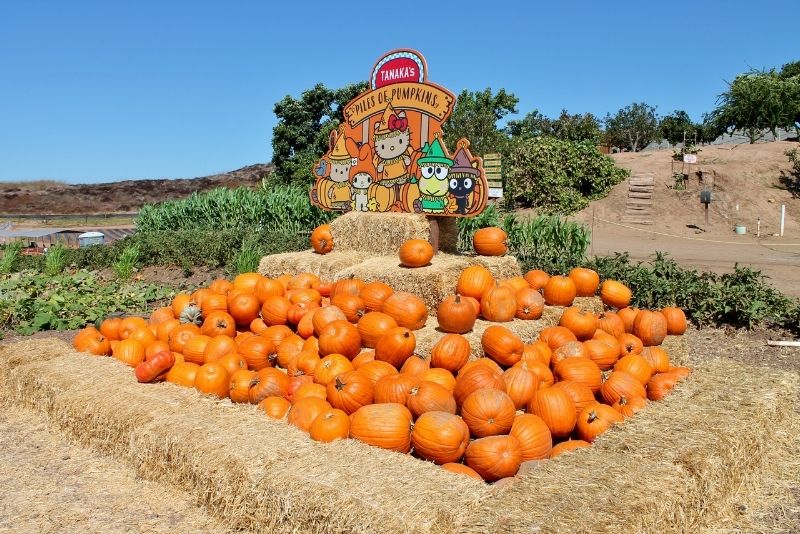 Pretty as a picture and the pride and joy of its owners, this family-run farm grows in excess of 60 different fruits and veggies throughout the year — giving visitors the chance not only to sample the freshest of crops but also to join in on the fun with a range of tours and picking activities!
Kids adore the hour-long wagon ride which allows them to pick produce like strawberries and kale, while the Pumpkin Patch is the go-to for all your Halloween carving needs. If you're roaming through the area around the holiday season, be sure to check out the Hikari Festival of Lights and the Gingerbread Forest!
7 – Work on the tan at Heisler Park (at Laguna Beach)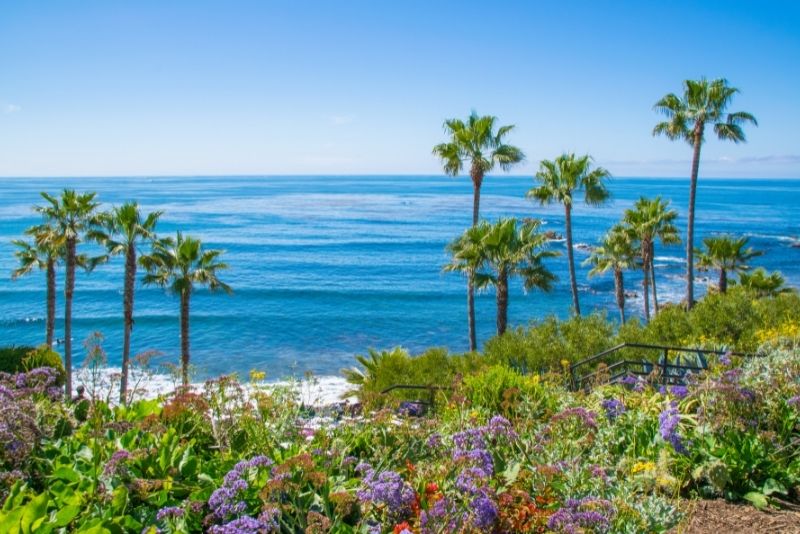 Situated in the heart of Laguna Beach, Heisler Park is a picturesque waterfront destination perfect for strolling and soaking up some sun.
As well as lazing around on beach blankets or admiring the views from one of the many observation points, visitors can take to the water at Picnic Beach and Rockpile Beach, check on the Veterans Monument, or explore the ample coves and tide pools.
Plus, with lifeguards stationed at the main beaches, families can take a dip without worry.
8 – Wander around the Downtown Disney District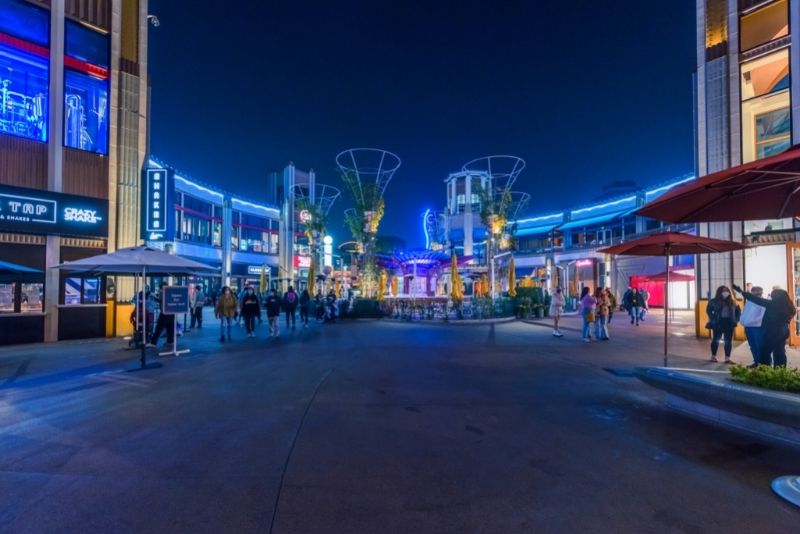 Right next to Disneyland Park is an open-aired world of dining, entertainment, and shopping that'll keep you busy all day long.
The House of Blues Anaheim features live music shows throughout the week, while ESPN Zone lets sports fans catch their favorite teams in action on huge screens via satellite feeds from around the country.
With plenty of family-friendly options, the LEGO Store is perfect for younger visitors, while Ghirardelli Soda Fountain & Chocolate Shop lets you indulge in some vintage Americana. For dinner and a show, look no further than Ralph Brennan's Jazz Kitchen, and for timeless Disney souvenirs, make sure to stop into the World of Disney.
Best of all, you don't need to have a Disneyland ticket to visit Downtown Disney — it's totally free!
Take note: Looking for accommodation near Disney? Besides the plethora of Disney-branded lodgings, consider the Hilton Anaheim or Double-Tree Suites.
9 – Watch the sunset at Inspiration Point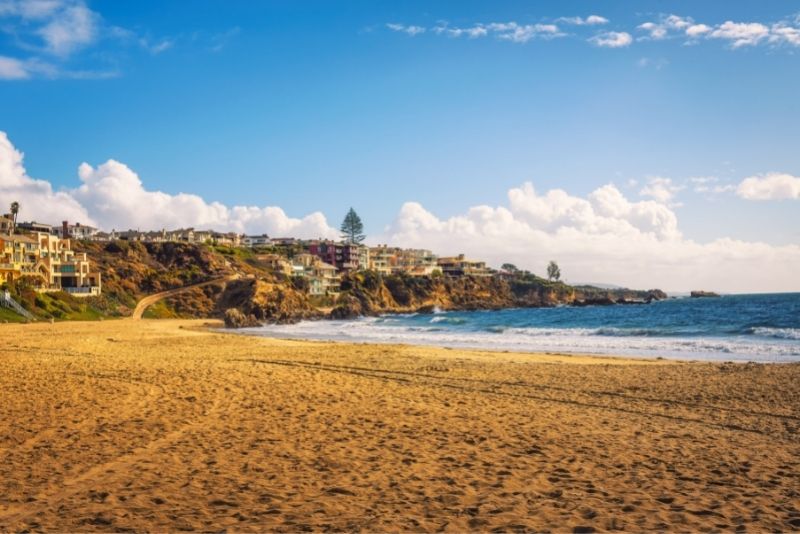 Aptly named, Inspiration Point is a small yet mighty observation lookout that provides a picturesque and romantic sunset view that few other spots in the area can match.
An ideal spot for a picnic, dipping your feet in the water, or a simple stroll along the "vanishing" walkway that leads down to the viewing area, it's one of the best free things to do in Orange County.
10 – Spend an hour or two at the Fullerton Arboretum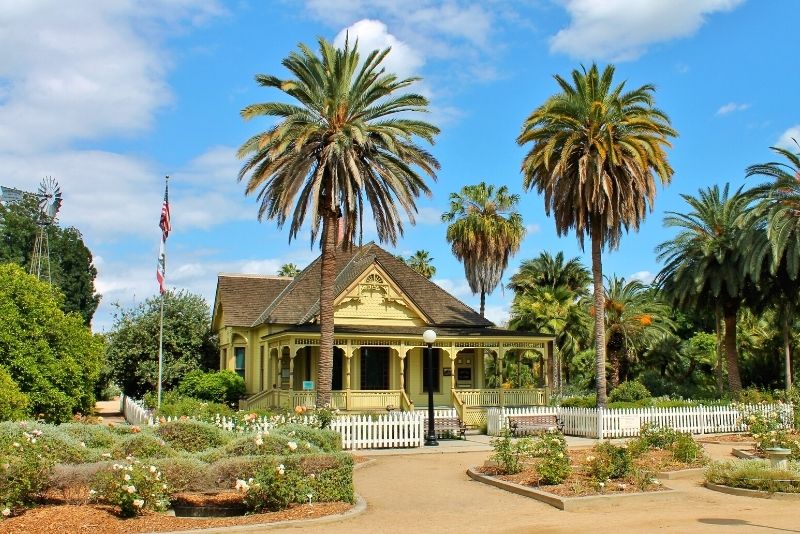 Perfect for a tranquil afternoon stroll, this 26-acre botanical garden is home to more than 200 species of plants and trees of all different shapes and sizes, sourced from different corners of the world.
With a range of leisurely trails that meander through unique habitats like coastal sage scrub and oak woodland, as well as a children's garden and serene pond, there's plenty on offer at this free-to-visit non-profit slice of nature.
Hot tip: Check the website to see when plant sales are happening!
11 – Feel the magic at Disneyland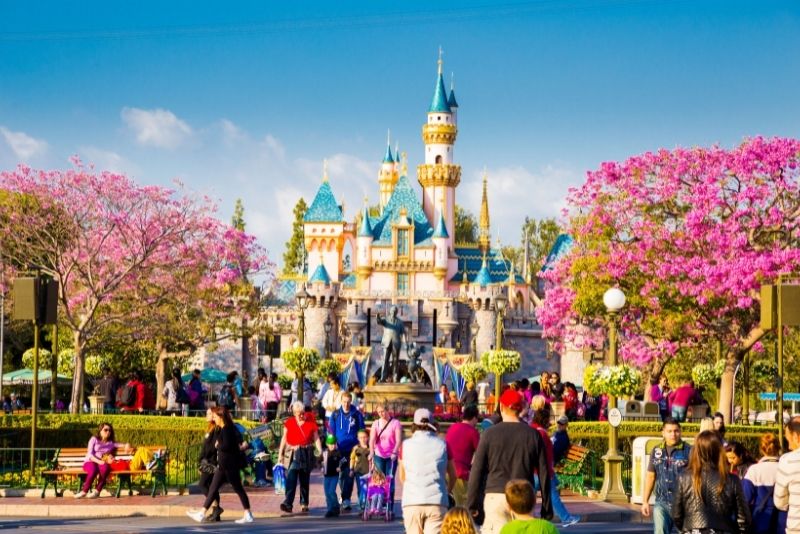 They don't call it "The Happiest Place on Earth" for no reason — at the world-famous Disneyland Park, you'll find yourself entrenched in a land of unmatched magic and enchantment.
Split into different whimsically themed zones meticulously decorated to inspire joy around every corner — Main Street, U.S.A., Adventureland, New Orleans Square, Critter Country, Frontierland, Fantasyland, Tomorrowland, and Mickey's Toontown — you'll be spoiled for choice between heart-racing roller coasters (don't miss Space Mountain), family-friendly classics (It's a Small World is iconic), brilliantly themed restaurants, costumed characters and a whole lot more.
The Main Street parade is always a crowd favorite, while the nightly fireworks display is one of the most spectacular sights in all of Southern California.
Looking for something unique? Little-known yet thoroughly magical, the Sleeping Beauty Castle Walkthrough allows you to step inside the landmark castle and experience a fairytale through special effects, dioramas, and more.
12 – Admire old-school planes at the Lyon Air Museum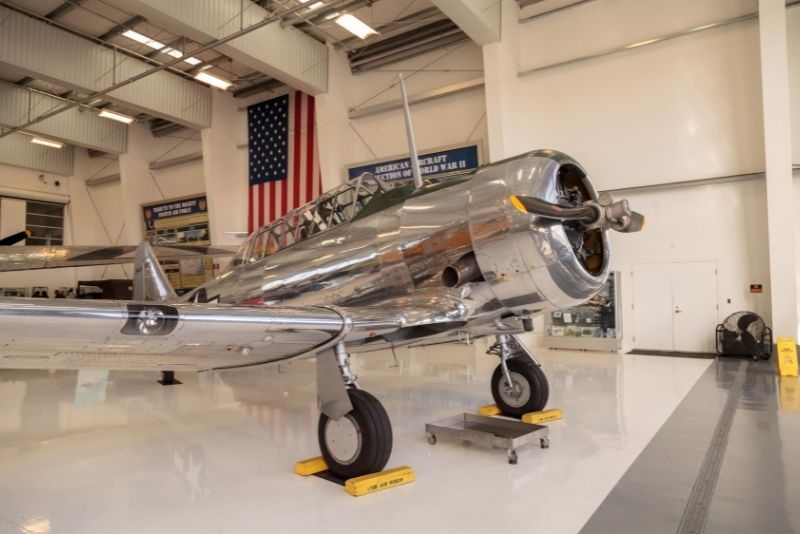 Tucked away in the city of Santa Ana in the backlot of John Wayne Airport, this unique aviation museum is one of the unmissable things to do in Orange County for history buffs.
Covering some 30,000 square feet, the Museum's collection features dozens of planes and helicopters spread out across many hangars — from WWII-era bombers to rare Vietnam-era fighter jets (and non-flying military vehicles and motorcycles) this museum has something for all aviation enthusiasts.
13 – Step back in time at the Downtown Santa Ana Historic District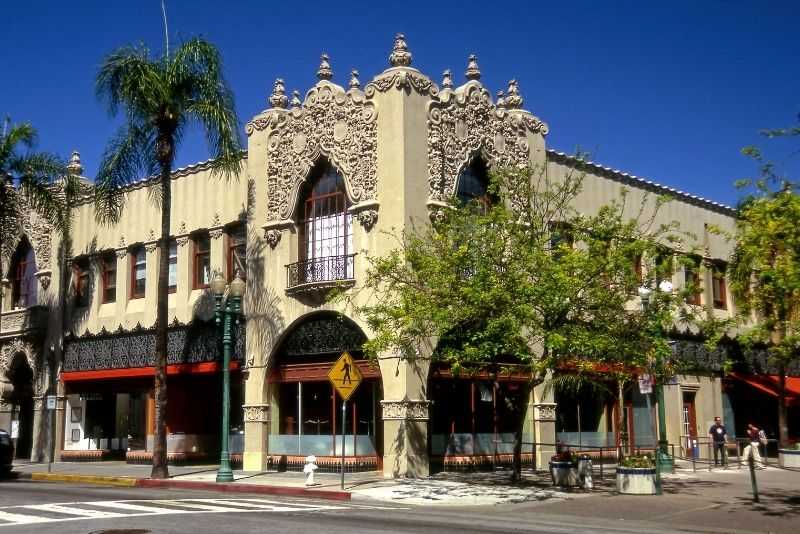 Dating back to the 1800s, this historic district is situated just a short drive from Disneyland and offers an absolute wealth of history and culture for visitors to explore, far beyond just the aforementioned Courthouse.
Start your historic tour in the heart of downtown, where you can take a stroll down Fourth Street and enjoy some truly breathtaking architecture. Then check out the 1889-built Howe-Waffle House and Medical Museum, and sprawling Grand Central Art Center, and grab a spot to eat at one of the many buzzing nearby restaurants.
14 – Take a stroll along Doheny State Beach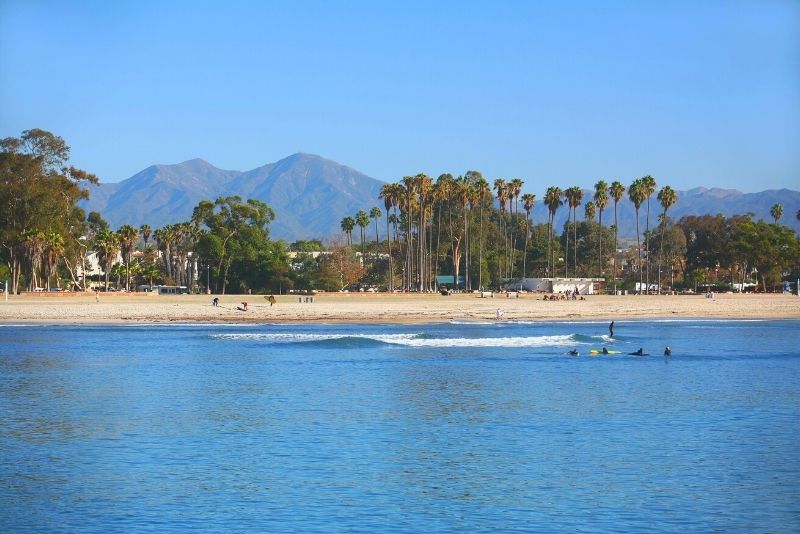 A wonderful spot to splash around and cool off, this popular stretch of coastline makes for a perfect day away from the fast-paced city life.
With clean facilities, volleyball courts, lots of space to spread out on the sand (which often dishes up spectacular sunset views), as well as plenty of parking available and lifeguards regularly on-site, Dana Point's Doheny State Beach holds its own as one of California's most popular beaches, welcoming over 1,000,000 sunseekers year after year.
After working on the tan, take a stroll through the pleasant coastal trails or pick up some delicious food from one of Doheny's many restaurants.
15 – Hop over to Disney California Adventure Park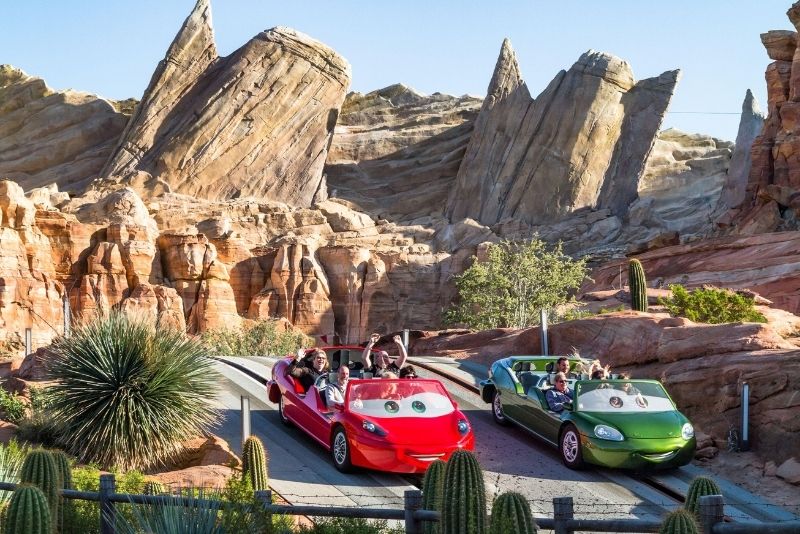 Just across the walkway from the classic Disneyland Park sits the more modern Disney California Adventure Park, home to countless more thrills, shows, entertainment, and magic!
Cars Land, inspired by the Disney/Pixar hit Cars, is a must-see with its stunning attention to detail and a jaw-dropping replica of Radiator Springs. Quickly becoming one of the park's favorite rides, Radiator Springs Racers takes you on an exhilarating race through the desert on Route 66.
The Twilight Zone Tower of Terror — set in an abandoned Hollywood hotel and rumored to be haunted — will send chills down your spine, while the Incredicoaster (formerly called California Screamin') takes you on a high-speed ride that serves up stellar views of Anaheim and beyond.
On those toasty summer days, the Grizzly River Run is the perfect escape, while Toy Story Midway Mania is a must-do for all ages.
Throw in a brilliant live Broadway take on Aladdin, plenty of award-winning restaurants, and a replica of yesteryear's Hollywood Boulevard, and you have a truly unforgettable day out.
HOT tip: For the best bang for your buck, grab a 1 or 2-day Park-Hopper ticket to visit both Disneyland and California Adventure.
16 – Let the imagination run wild at the Pretend City Children's Museum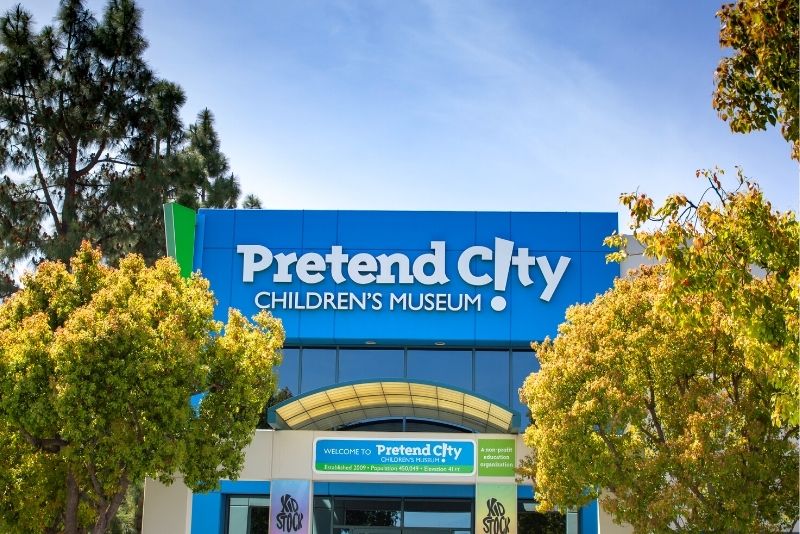 A whimsical day out for the whole family, this pint-sized city offers youngsters a chance to learn all about adult life, exploring how cities and various professions work through a collection of lighthearted hands-on learning experiences and role-playing situations.
From exhibits that explore themes like banking, construction, music, and cooking, there's so much on offer at Pretend City Children's Museum that you'll have trouble tearing your children away!
Both kids and their adult will enjoy time playing and learning together, getting their hands dirty in the Art Studio, and then enjoy a break in the on-site real cafe.
17 – Go whale watching at Dana Point Harbor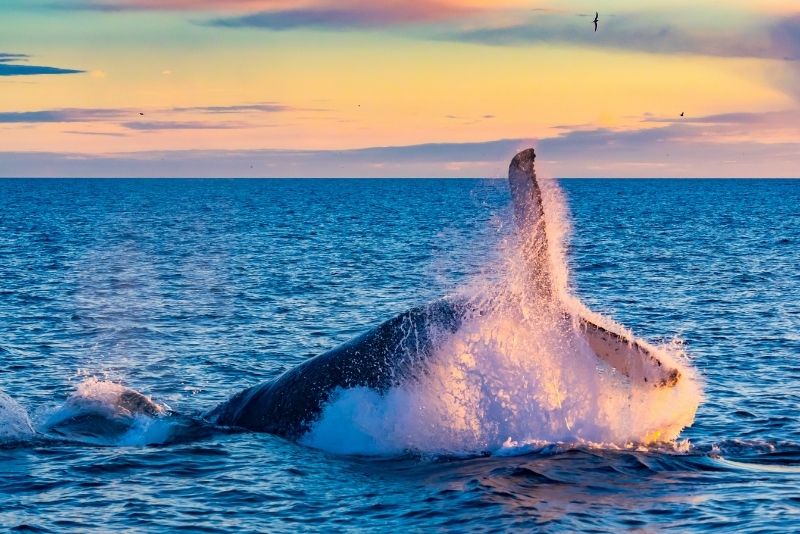 If you're the kind of person who loves spotting wild animals in their natural habitat, whale watching is absolutely one of the essential things to do in Orange County.
Frequently welcoming Mother Nature's gentle giants, Dana Point Harbor is home to some truly stunning marine wildlife, with a variety of group tours and private charters available to witness nature wave its magic from the comfort of your own boat.
Don't forget your camera!
18 – Hear the bells ring at the San Juan Capistrano Mission
One of the most historic and iconic landmarks in all of California, San Juan Capistrano dates back close to 250 years, welcomes more than 350,000 visitors per annum, and sells itself as an absolute must-visit for any tourist looking to get an insight into the Golden State's incredible past.
Originally founded by Saint Junipero Serra back in 1776 as part of his Spanish mission chain that spanned across Alta California, the current site comes complete with a museum, gift shop, and café, as well as an iconic bell wall (still rung daily).
Blending architecture with history, the expansive UNESCO World Heritage site won't disappoint.
19 – Immerse yourself in nature at Crystal Cove State Park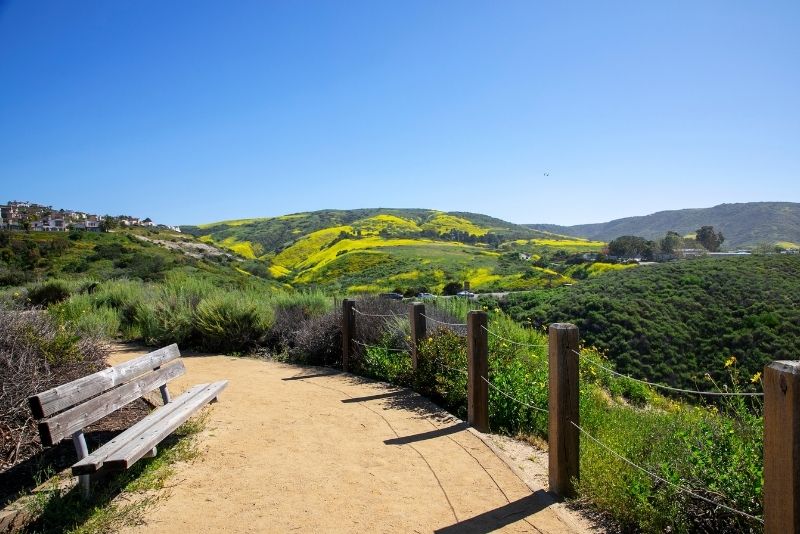 Serving up a touch over 3.2 miles of sparkling, sun-kissed Pacific coastline, Crystal Cove State Park combines 2,400 acres of green parkland with warm sands — a hiker and nature lover's paradise.
Far from just a natural attraction, however, the area is also home to the Crystal Cove Historic District of beach houses, a collection of 46 vintage rustic cottages nestled around the mouth of Los Trancos Creek that date back to the 1930s and 40s. For an unforgettable trip, rather than simply admire the cottages, why not actually rent one for a night or two?
20 – Meet Disney icons at Minnie's House & Mickey's Toontown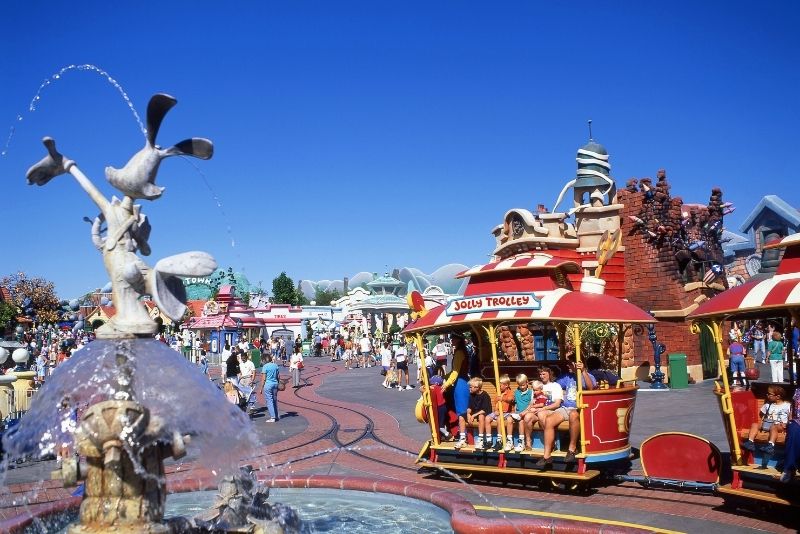 While most Disneyland visitors flock to the big coasters, kids are sure to have a blast in Toontown!
The whole family can find something to love amidst the flickering candles and cozy decor of this enchanting little haven, dedicated entirely to two of Disney's most famous characters: Minnie Mouse and Mickey Mouse.
HOT Tip: Try Minnie's sweetheart-shaped computer, explore Mickey's treasure trove of mementos from bygone years, and keep your eyes peeled for the famous residents themselves!
21 – Go birdwatching at the Bolsa Chica Ecological Reserve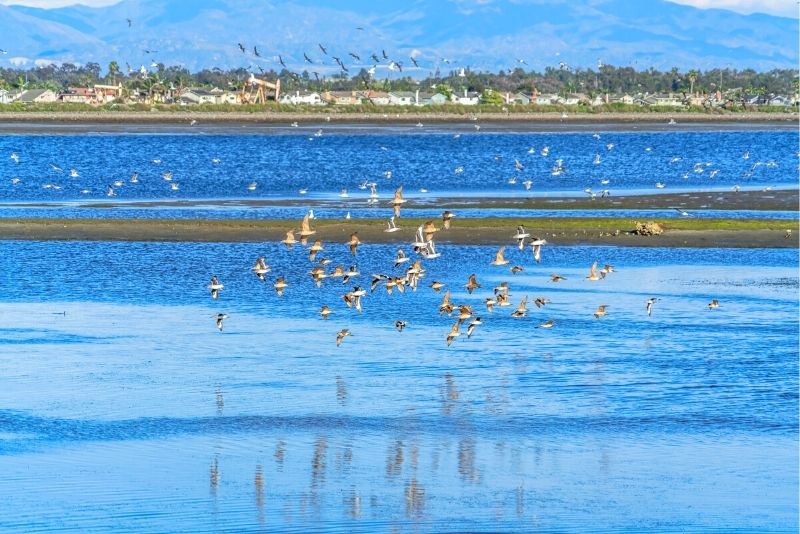 A wonderful snapshot of the diversity that Mother Nature can dish up, this easily accessible reserve — and California's largest coastal saltwater marsh — is an essential pit stop for all nature lovers.
With thousands of species of plants, mammals and birds calling this coastal wetland home at one time or another, you'll get the chance to see things like coyotes in their natural habitat while enjoying a picnic on the beach!
For the trailblazers, the Bolsa Chica Ecological Reserve Trail is a 3-mile route famous for its beautiful wildflowers and birdwatching opportunities.
22 – Take the youngsters to The Children's Museum at La Habra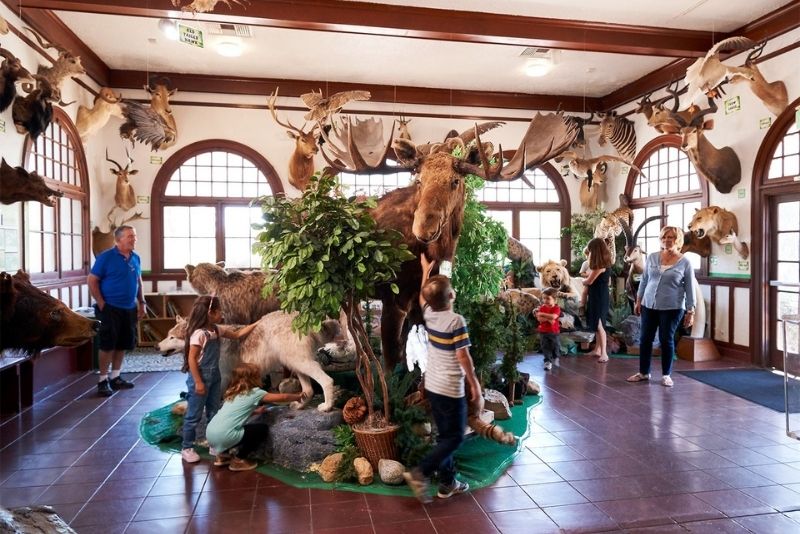 Whether you're after an afternoon of fun-packed learning, or simply want to help your little ones develop their skills and grow as individuals, The Children's Museum at La Habra has something special in-store.
With an emphasis on early development and education — through interactive exhibits ranging from puzzles and games to science lessons, creative play and art projects — this is a great place for parents or grandparents who want their kids' young minds stimulated in the best possible way.
The outdoor dinosaur garden and historic 1942 train carriages are both notable highlights, however, with exhibits rotating three times per year, there's always something new and exciting to check out.
23 – Go surfing at 1,000 Steps Beach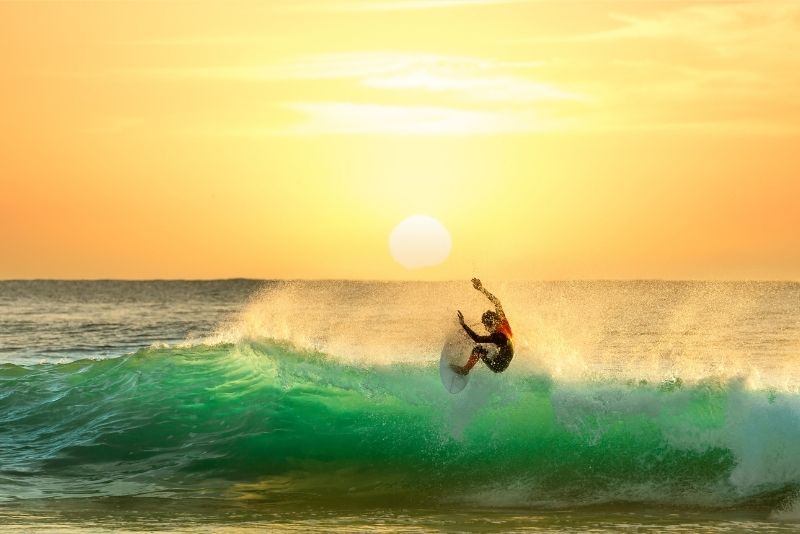 Located along the scenic Pacific Coast Highway in Laguna Beach, this picturesque stretch of warm sand is famous for its epic staircase which descends to a secluded cove below.
But that's not all! The trail continues down another set of stairs past some beautifully turquoise tide pools to an idyllic rocky beach where you can take a refreshing dip in the ocean, go surfing or sunbathing, or enjoy a peaceful afternoon picnic.
As one of the largest stretches of sand in Laguna Beach, seldom will you ever feel crowded or rushed.
But it's far from the only good local spot to catch a wave!
You can enjoy the diverse lineup of currents at Huntington Beach Pier, or the easy breaks and laid back atmosphere of Bolsa Chica State Beach.
You can also enjoy the rustic charms of Trestles Beach, or the famously stellar swells at Seal Beach.
24 – Practice your backflips at a trampoline park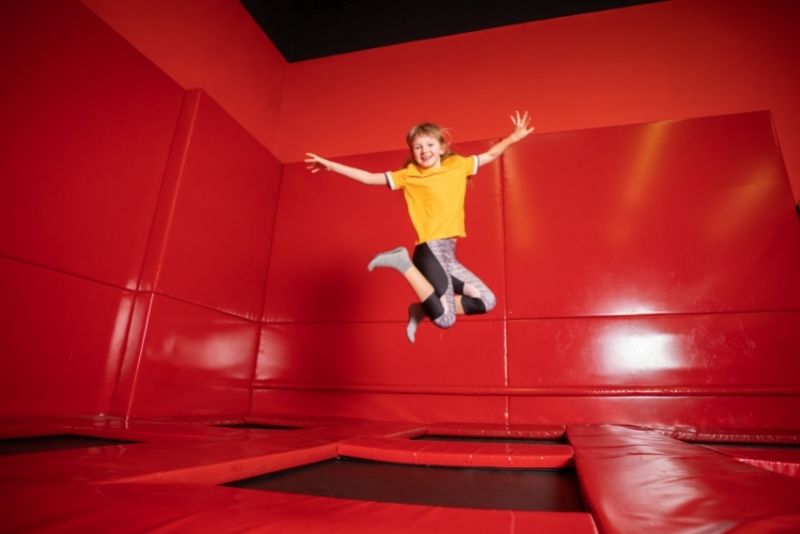 A surefire way to burn a few calories, Orange County's range of trampoline parks are a great spot to take the kids to tucker them out (read: it's a workout for adults too).
With dozens of fun-packed jumping zones, enormous walled trampolines, dodgeball courts, slacklines, warrior courses and foam pits to boot, it's not hard to see why places like Sky Zone, DEFY, or Get Air can be so popular!
Hot tip: While an hour session may not seem like a lot, most jumpers are wiped out after just half of that!
25 – Wander around the Oak Canyon Nature Center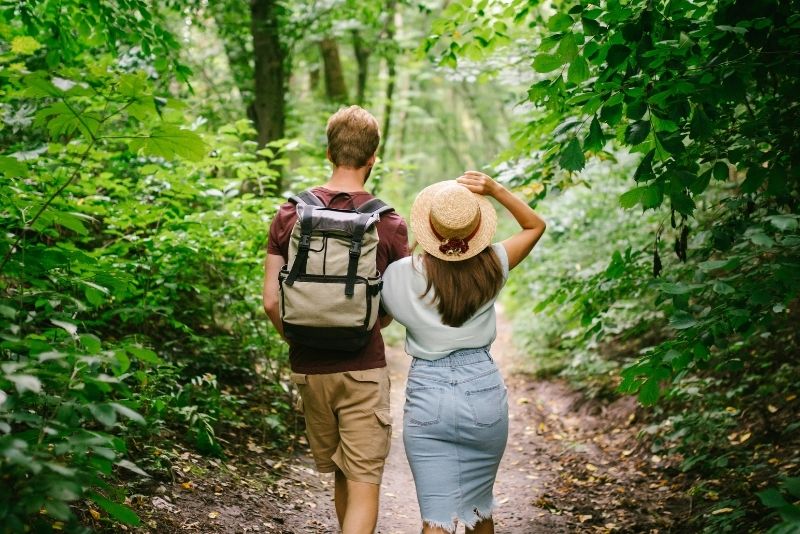 It's time to get back to nature! Nestled in the rolling greens of Anaheim, this serene escape is perfect for families or anyone looking to spend some time with Mother Earth.
Home to Orange County's oldest oak tree, as well as a plethora of hiking and biking routes through the 58-acre parkland that circles around the Center itself, Oak Canyon is the perfect spot to stretch your legs after a long day of touring.
26 – Wander around Orange County Great Park on foot …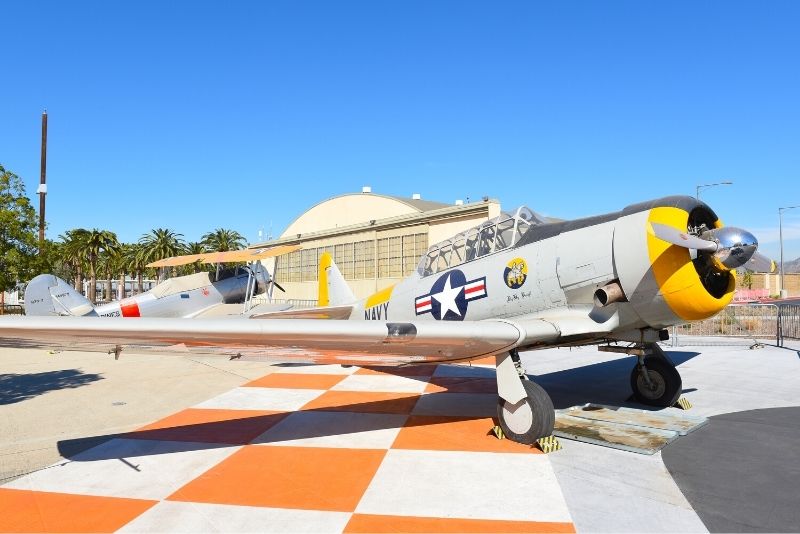 As the former El Toro Marine Corps Air Station, this 1,300 acres space has undergone (and continues to undergo) a monumental overhaul in recent years. Now it has over 450 acres of quiet parkland, a certified farmers market, a range of walking trails, a classic carousel that sees youngsters grinning ear to ear, a playground, and an outdoor agricultural classroom known as the Farm + Food Lab.
With so much to see and do — and we haven't even touched on the Palm Court Arts Complex — and only more to come in the next few years, you'll truly be spoiled for choice at Great Park.
27 – … and then soar it with the Great Park Balloon Ride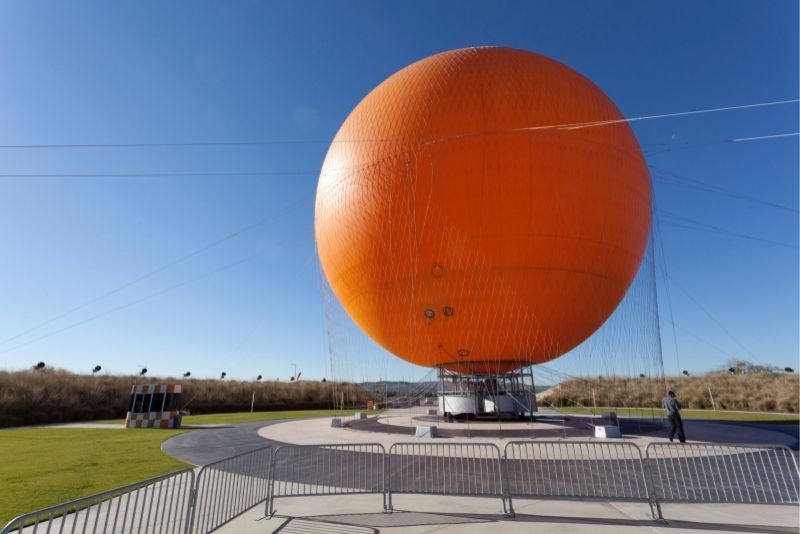 Despite all the activities just mentioned in No.9, there is one particular activity that deserved its very own mention: the balloon ride.
A wonderful way to soak in the great expanses of Orange County, without the bumper-to-bumper traffic, the Baloon Ride at Irvine's Great Park — part hot air balloon, part observation deck — takes you 400 feet above the ground and offers killer vistas that span close to 40 miles on a clear day!
Thanks to being sponsored by FivePoint, it's totally free too! Just keep in mind that the balloon ride only operates at certain times Thursday through Sunday.
HOT TIP - Don't miss this one if you can. It is well worth it!
28 – Head to the Bowers Museum for a dose of art and history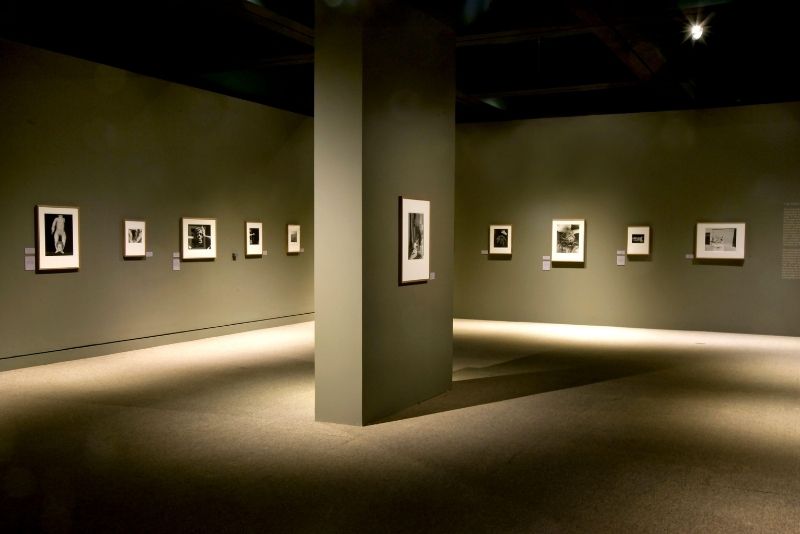 Home to a range of cultural exhibits as well as beautiful gardens and tranquil fountains, the Bowers Museum is the perfect stop for those who want to learn more about Native American art, Chinese history, or even fossils from Ancient America.
In addition to its impressive permanent collection of some 2,000 19th and 20th-century paintings and 12,000 historic decorative art objects (think dolls, furniture, and homewares), the museum also welcomes traveling temporary exhibits and offers book club meets and music performances!
29 – Rent a kayak at Newport Beach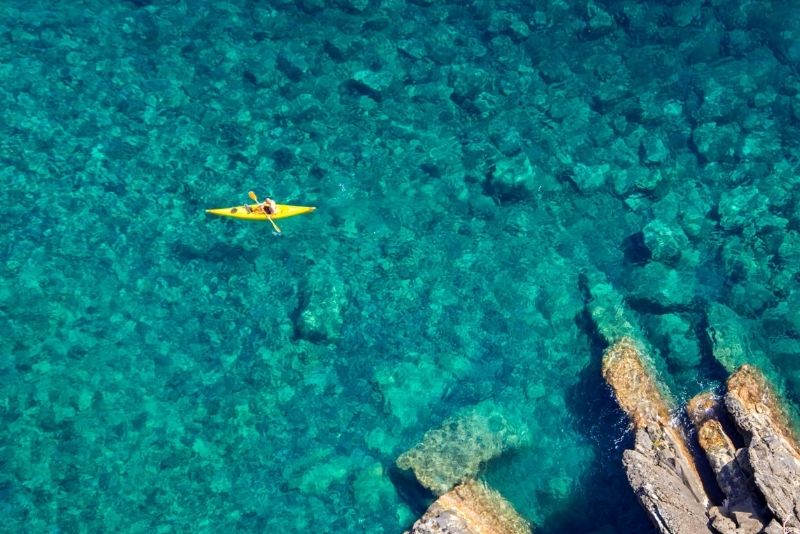 Stretching for miles along Orange County's Pacific Coast Highway, Newport Beach is a haven (and just one of many in the area) for aquatic adventure that offers something fun and exhilarating to everyone — while the surfers can hit the Pacific itself, kayakers can thrive in the protected canals and Intracoastal waterways.
Simply rent your own kayak or join a guided tour to learn about the geography and history of the area along the way from a friendly guide — either way, you'll have a whale of a time!
30 – Try your hand at archery
A satisfying activity for anyone with a competitive edge, archery is a fun and challenging pastime that's quickly regaining popularity.
From family-friendly sessions at indoor ranges, such as Orange County Archery or Hi-Tech Archery (with classes available for all ages), to the thrill of hitting the target at an outdoor range, such as the Mile Square Regional Park Archery Range, the list of options is bountiful.
31 – See what's on display at the Fullerton Museum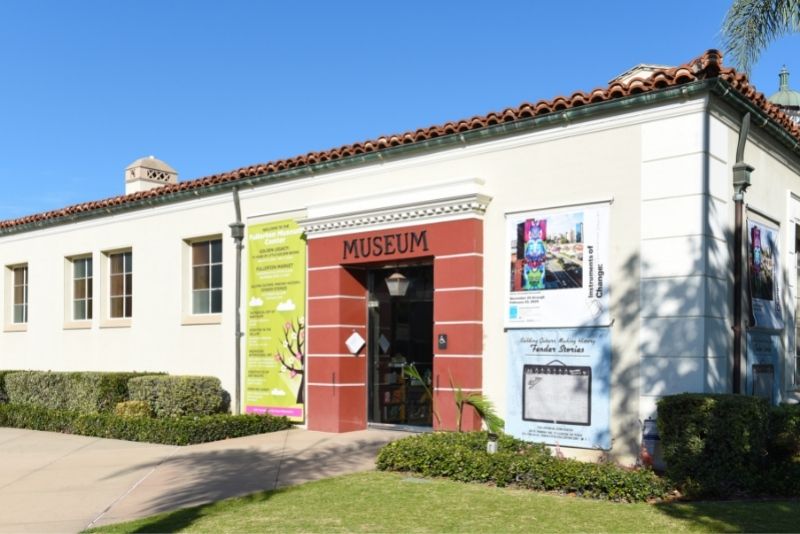 Located in the historic downtown district of Fullerton, this independent cultural museum offers visitors a wealth of art and history to explore.
With several different exhibition spaces that play host to permanent displays as well as two rotating exhibits (like the history and life of local guitarist Leo Fender and the story of the Little Golden Books publishing house) — there's always something new and exciting happening within its walls.
32 – Check out the Noguchi Garden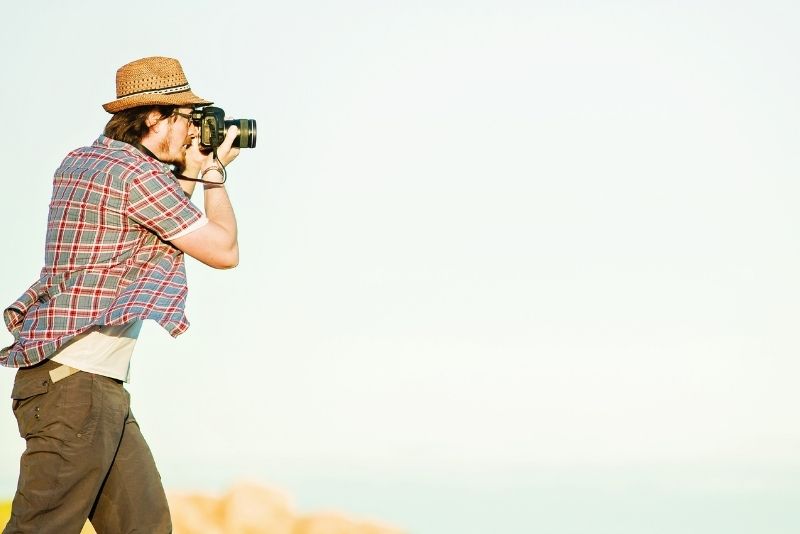 A tranquil sanctuary amid bustling Costa Mesa, this little gem is a must-visit for anyone looking for a little bit of nature mixed with a whole lot of creative architecture.
Designed and donated by Japanese sculptor Isamu Noguchi decades ago, the outdoor sculpture garden features large stone pieces deliberately set into the ground in specific ways, meant to impersonate the wider Californian landscape.
Best of all, it's open to the public free of charge from 8 a.m. to midnight!
33 – Step back in time to the early 1900s at the Heritage Museum of Orange County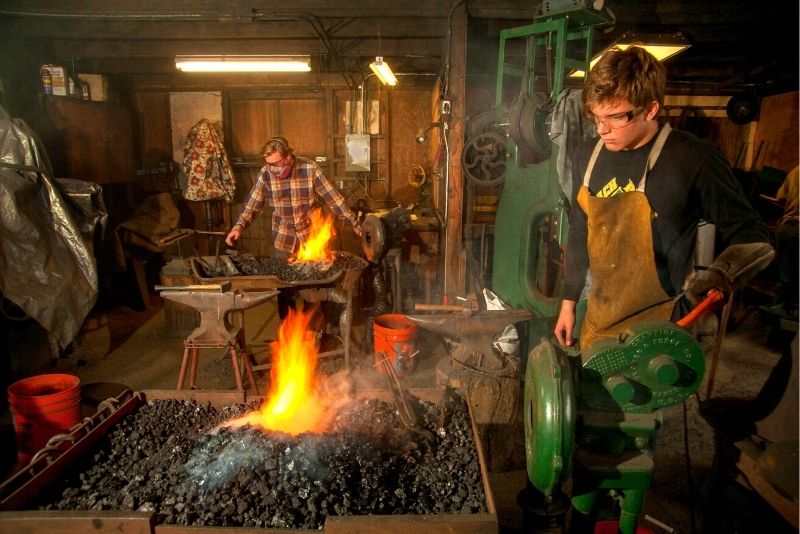 A fascinating look back at the origins of Southern California — and, more specifically, Orange County — this museum is a treasure trove for local history buffs and anyone keen to get up close with the past.
Housed inside two separate historic mansions (the H. Clay Kellogg House and John Maag Farmhouse), the indoor section of the museum explores life in the early 20th century through a range of interactive displays that dive into old-school furniture, architecture, and ways of life.
Outside the main two houses, you'll also find a water tower, a blacksmith shop, and a handful of enchanting nature trails for that much-needed dose of fresh air.
34 – Ride heart-stopping coasters at Knott's Berry Farm
Often overlooked in favor of Disney, Knott's Berry Farm has emerged from humble beginnings as a (yep, you guessed it) berry farm to transform into an internationally-renown theme park that will entertain the whole family for hours on end.
Boasting an impressive collection of thrill rides, not to mention shows, shops, and restaurants galore (including the famous Mrs. Knott's Chicken Dinner Restaurant), it has lots to offer those who want their fun with a side order of history.
Adrenaline junkies, don't miss the Xcelerator, rated as one of the world's best launch coasters. Families, make sure to check out Camp Snoopy, where you'll find Charlie Brown and the rest of the beloved Peanuts gang. And, for the history buffs, the decades-old GhostRider is considered one of the world's premier wooden roller coasters!
Take note: On those sizzling summer days, Knott's Soak City water park — with 23 different slides, 750,000-gallon Tidal Wave Bay wave pool, and a classic Lazy River — offers an ideal way to cool down.
35 – Admire local work at the Hilbert Museum of California Art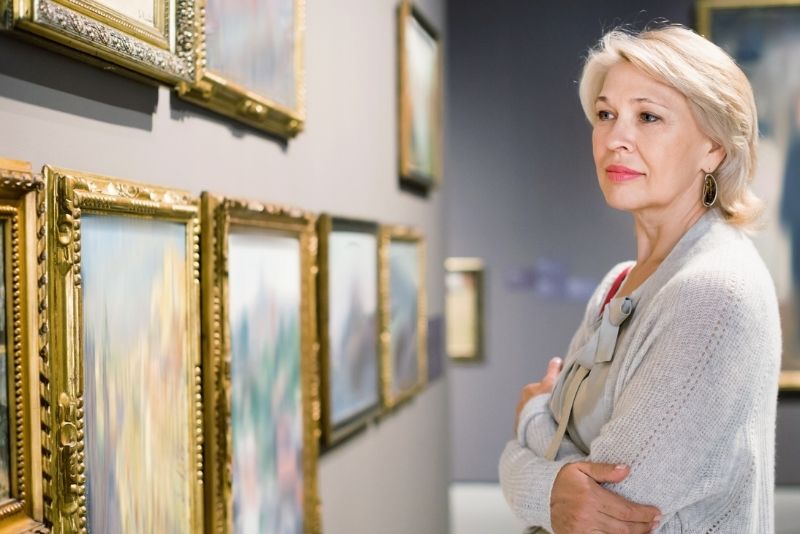 A highly-rated Orange County attraction sitting on the grounds of Chapman University, this charming museum showcases a diverse range of Californian artworks from the 20th and 21st centuries.
Spread over multiple floors and featuring works by some famous faces including Millard Sheets, Emil Kosa Jr., and Phil Dik amongst others, it's an engagingly accessible introduction into California's history of art.
Best of all, the over 1,000 piece collection is totally free to check out!
36 – Explore the dugout at Angel Stadium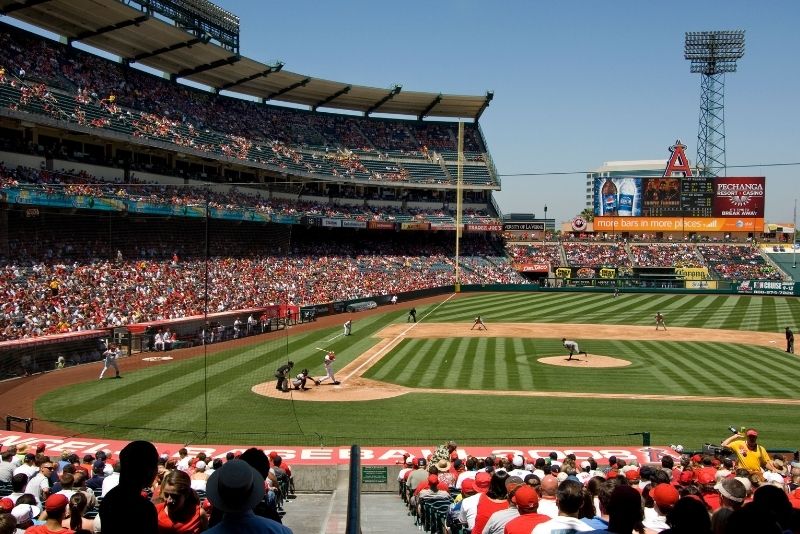 Even if you're not a baseball fan, the chance to catch a game at this world-famous stadium is arguably one of the non-negotiable things to do in Orange County for anyone with even a slight inkling for competitive sports.
With its own history dating back over half a century, Anaheim's Angel Stadium has welcomed some truly legendary players, both past and present. Babe Ruth once threw out the first pitch here, while current players include some of the biggest names in professional baseball.
Besides the catch to catch a live MLB game, why not opt for a guided behind-the-scenes tour? You'll be able to see views typically off-limits to the general public, like the Angels Dugout. Visitors' Clubhouse, Press Conference Room, and Broadcast just to name a few!
37 – Meet some animals at Pacific Marine Mammal Center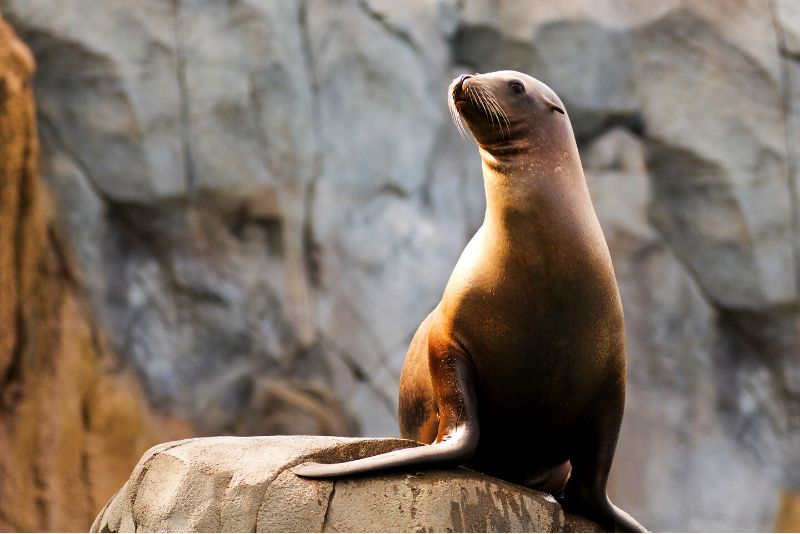 After observing and playing in the water, it's time to meet some of its coolest residents!
This fantastic center focuses on protecting the many beautiful creatures that call the ocean home, using a mixture of rescue, rehabilitation, and education to get visitors involved.
Stop by the facility to meet some of the critters currently in the healing process, including Pacific harbor seals, Northern elephant seals, and California sea lions.
You'll also be able to explore plenty of awesome exhibits that provide more information about the mammals and their habitat, as well as the organization's ongoing work in the open sea.
38 – Play a round of golf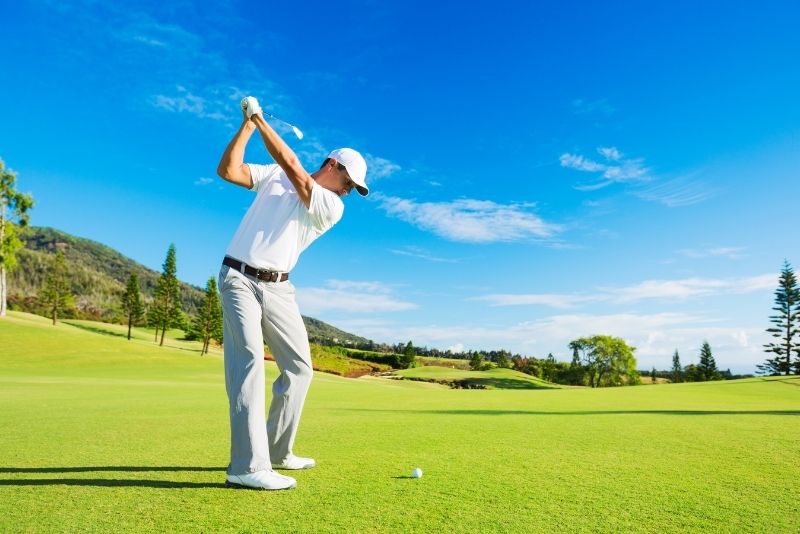 Nothing quite says vacation like a day or two on a lush perfectly-manicured golf course, and there are plenty of notable options scattered throughout the wider Orange County area.
Whether you've got a hankering for 18 holes or just want to take in some local culture on your visit to Orange County, you can't go wrong at the Oak Creek Golf Club – one of the region's top-rated courses. If it's beautiful landscapes you're after, Monarch Beach Golf Links at Dana Point, as well as The Ocean (South or North) at Pelican Hill Golf Club dish up spectacular oceanside views.
Over in Laguna Beach, Ben Brown's Golf Course at The Ranch is both technically challenged and serene, while the par-72 Arroyo Trabuco Golf Club was designed by PGA Tour professional Tom Lehman.
39 – Eat at the Anaheim Packing District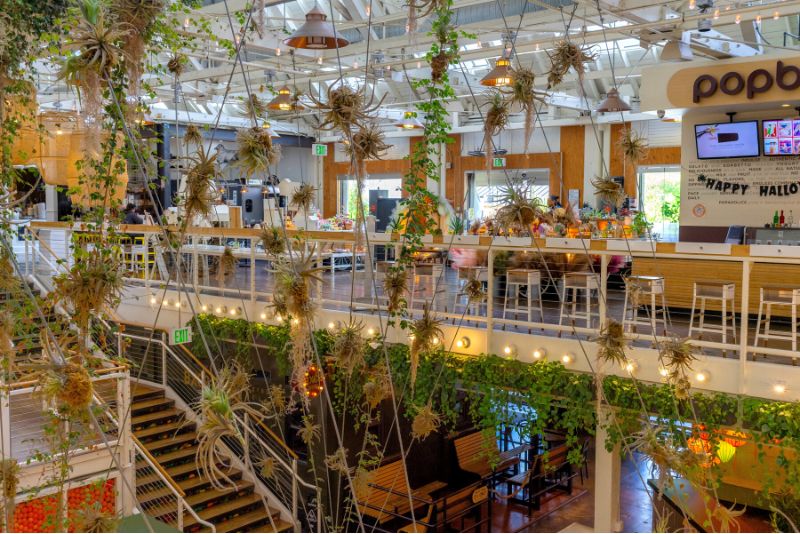 Looking for some fuel to keep up your energy while sightseeing? Then swing by the Anaheim Packing District for a truly movable feast!
Conveniently located right down the street from Disneyland, this former orange-packing plant now serves as a massive dining venue, where locals and tourists alike come to dine and people-watch.
With dozens of eateries representing every kind of cuisine, it's the perfect place for everyone to grab a meal.
And along with classics like ramen and sandwiches, you can also find some unique dishes, such as cheeseburger egg rolls or Fruity Pebble-filled crepes.
It's like the food court of your wildest dreams!
40 – Enjoy the view from the Irvine Spectrum Center Giant Wheel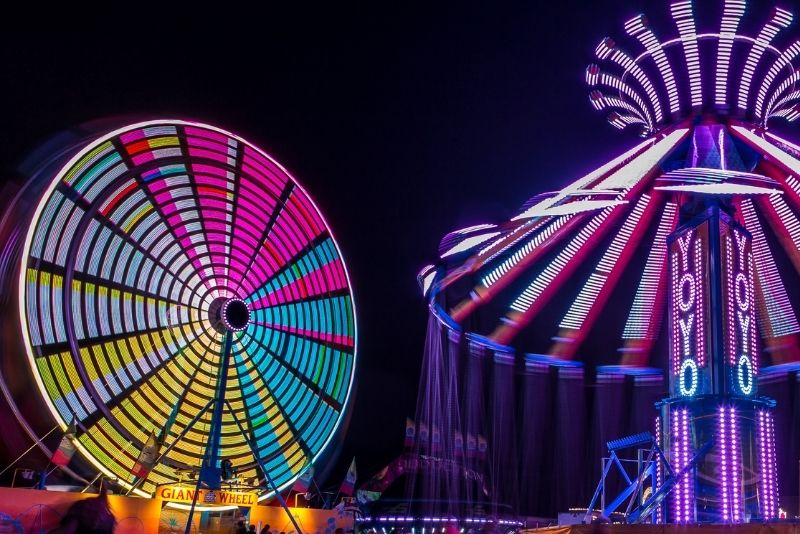 Stepping away from Disney now, the Irvine Spectrum Center Giant Wheel is a must-do for thrillseekers and those looking to catch beautiful panoramic views of Orange County.
Towering over the popular Irvine Spectrum Center shopping mall, this massive Ferris wheel sits at about 108 feet tall — making it one of the tallest in California! An open-air gondola lets you soak up stunning sights from all angles, while, even from the ground — thanks to its tens of thousands of color-changing LED lights — it's a sight to behold.
41 – Visit the Muzeo Museum and Cultural Center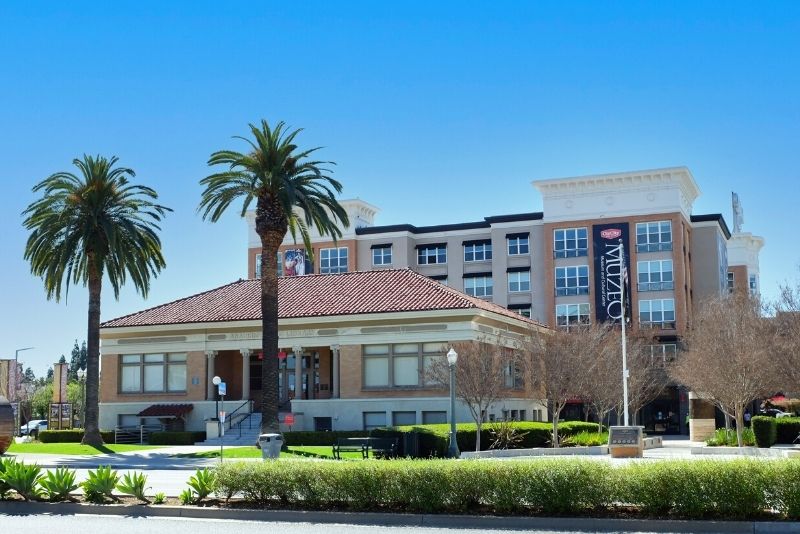 An exciting and longstanding addition to Orange County's already rich cultural scene, this contemporary museum and events center is located within the historic Carnegie Library building in downtown Anaheim.
The primary permanent collection celebrates the diversity of human expression through local artists' work, with special exhibitions showcasing a diverse mishmash of cultural and artistic genres to round out the halls.
There are also regular live music performances, hands-on art workshops, and other cultural events taking place throughout the year — making it (and its beautiful courtyards) a great spot to spend an afternoon or evening with friends and family!
42 – Zoom along the Balboa Peninsula on a Segway tour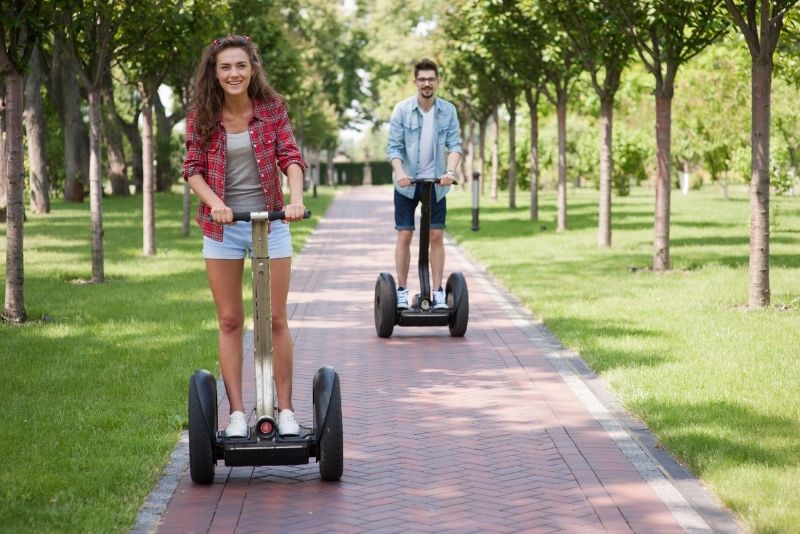 Sick of walking around town? Worry not, as there are several guided Segway tours — typically lasting around two hours — that will whisk you away on an exhilarating ride along the water's edge!
Led by friendly, knowledgable local guides, you'll glide along the Newport Beach coast with the gentle harbor breezes running through your hair, past some of the Peninsula's most historic sites, and along its famous piers, harbors, and lavish houses.
43 – Get acquainted with local work at the Laguna Art Museum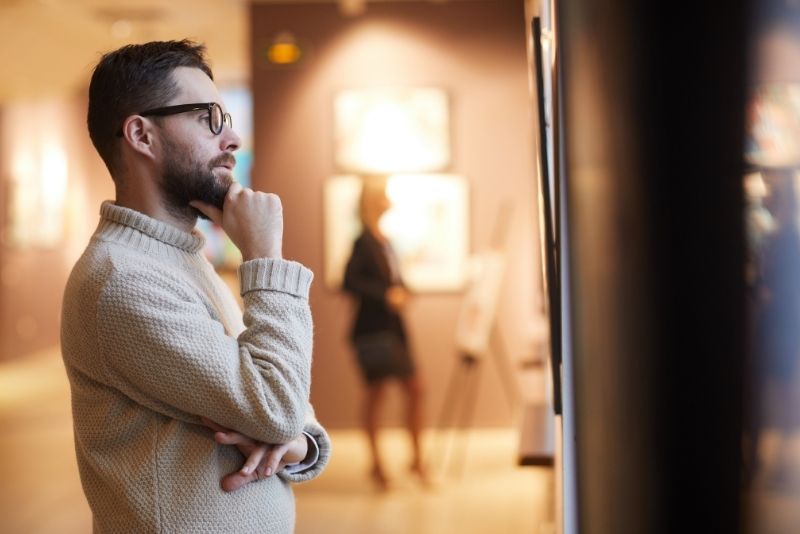 If you're looking for a cultural day out in Orange County, look no further than this acclaimed art museum on Laguna Canyon Road, renowned for its exclusive collection of only Californian art.
Its expert staff of curators and educators are on hand to guide visitors through some 3,500 artworks spanning the early 19th century to today that are spread across permanent collection galleries, as well as special exhibitions. There's plenty here to keep all visitors enthralled — from the most enthusiastic art fans to those simply looking for a fun and enriching day out with the family.
44 – Appreciate the widespread beauty of Irvine Regional Park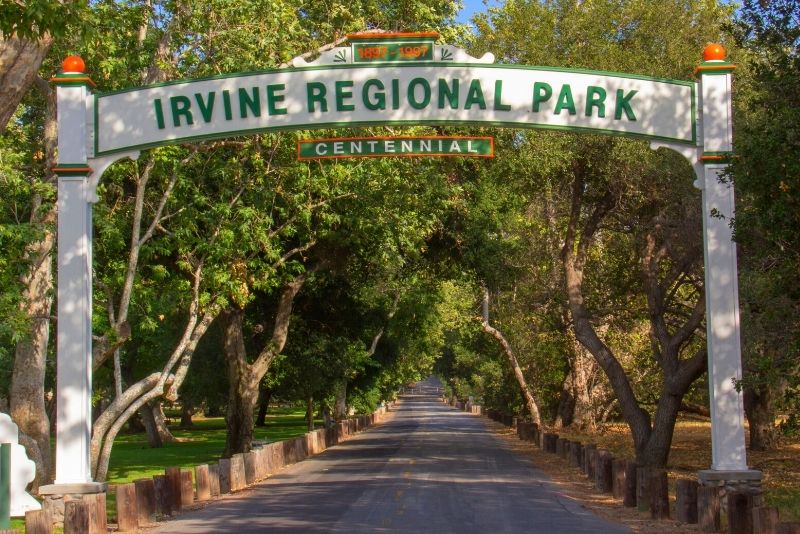 Certainly a welcome change of pace from gridlock traffic and hectic Los Angeles city life, Irvine Regional Park is 495 acres of serenity and tranquillity perfect for exploring and stretching the legs.
A haven of green open spaces, gently rolling hills, woodland trails, and six historic buildings (not to mention the OC Zoo), the area is also home to several events and workshops throughout the year.
If traveling with kids in tow, a host of activities are sure to keep them entertained for hours — from paddleboats to pony rides and bike rentals.
The pick of the bunch? Don't miss the Irvine Park Railroad – an enchanting 10-minute train ride that slowly meanders through the oak woodland and past a pair of shimmering lakes.
45 – Max out the credit card at the South Coast Plaza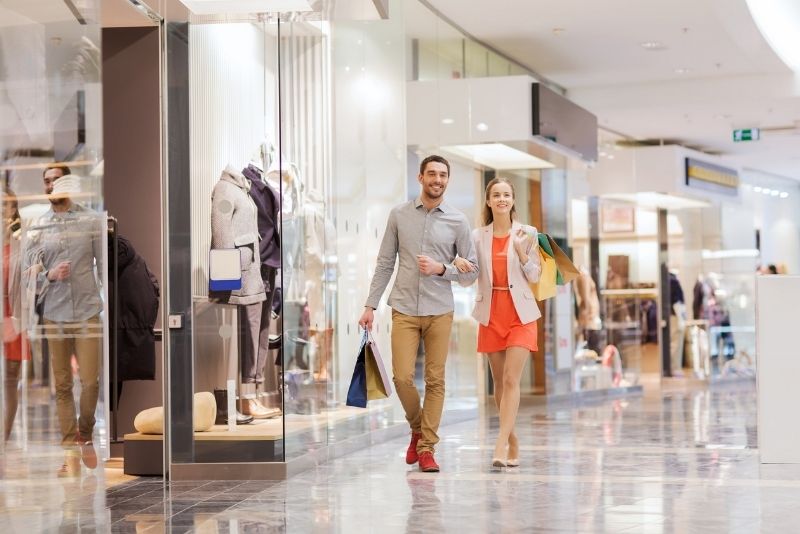 Whether you're in the market for a brand-new outfit or simply looking to window shop, South Coast Plaza is guaranteed to have something of interest.
With over 250 stores and well over a dozen eateries, this popular shopping mall attracts people from all walks of life — some come here with a specific purpose in mind while others prefer meandering their way around the seemingly endless aisles, hunting for bargains and discounts.
Target, Nordstrom, H&M, Gucci, and Macy's are just some of the big names you'll find here, while there's also an ice rink to skate around in when it gets particularly chilly!
Need more convincing? With over 2,800,000 square feet of retail space, this Costa Mesa shopping complex is officially the largest on the entire West Coast!
46 – See what's on at the Segerstrom Center for the Arts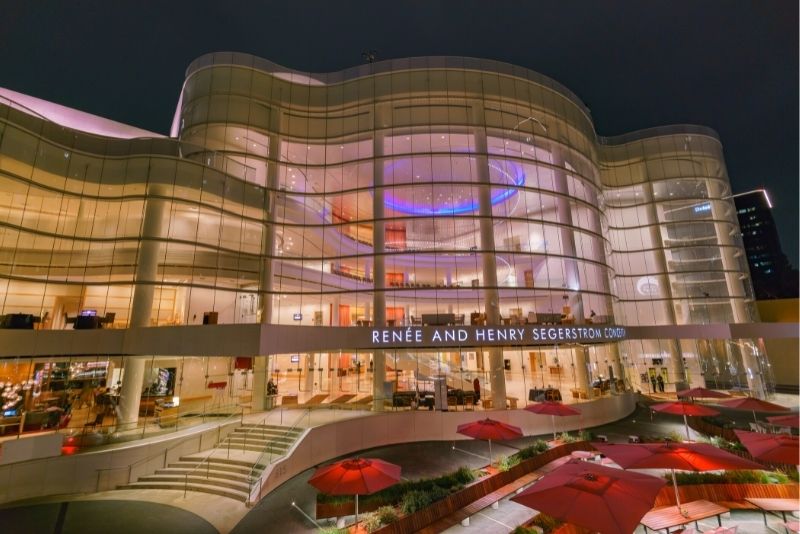 Whether you're looking for splashy musicals, captivating contemporary dance performances, or small-scale chamber music recitals, there's something at Segerstrom Center for the Arts to satisfy every type of live theater lover.
A world-renowned center of culture and arts, highlighted by the state-of-the-art 3,000-seat Segerstrom Hall, the Center actually boasts four different venues of different sizes, catering for everything from intimate movie nights to large-scale Broadway shows and everything in between — simply check the website to see what's on during your visit.
47 – Get your balance on a stand-up paddleboard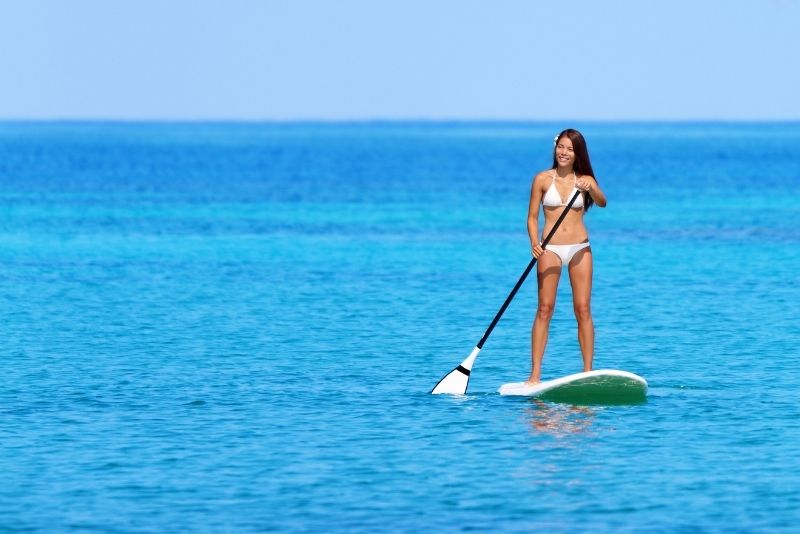 A relaxing (yet certainly not as easy as it looks) outdoor activity with longstanding traditions that's become wildly popular across California in recent years, stand-up paddleboarding is a great way to take in the views of Newport Beach.
Whether you rent your own board or join a tour with an experienced guide who'll wax lyrical about the area's history and hidden gems, there's no denying the appeal of the water on a sunny day.
48 – Take a day trip to Santa Catalina Island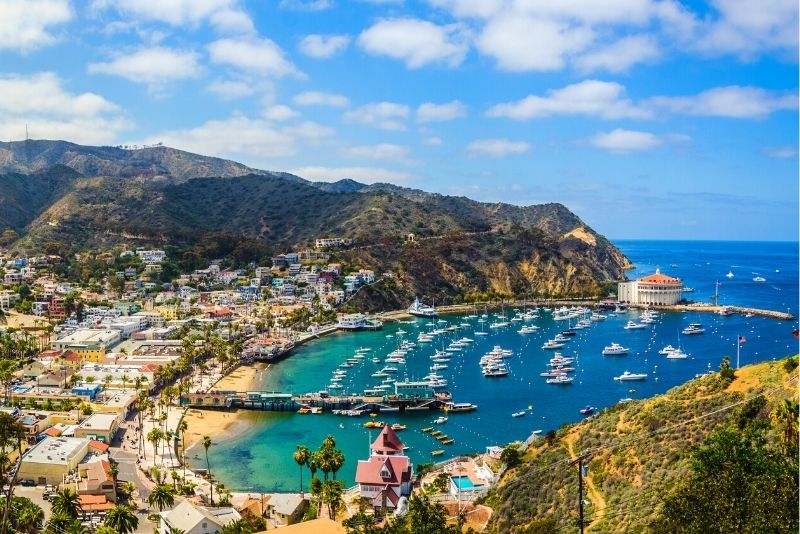 Twenty-six miles across the sea, Santa Catalina is a-waitin' for me.
With a unique history and an abundance of outdoor activities, Santa Monica Bay — and, in particular, Santa Catalina Island — is a must-visit destination for anyone spending time in sunny Orange County wanting a change of scenery.
Blessed with a mild Mediterranean climate and cradled by the Pacific Ocean, this popular island is just a short ferry from Long Beach and offers no shortage of adventure-themed activities. Admire the wildlife and panoramic views on the Trans Catalina trail, head underwater at the dive sites, reach the summit of Mt. Orizaba (the island's highest peak), join a thrilling zipline tour, or rent a jet ski or kayak.
If you're after something more low-key, there's no shortage of museums or beach clubs either.
49 – Take your pick of the area's best restaurants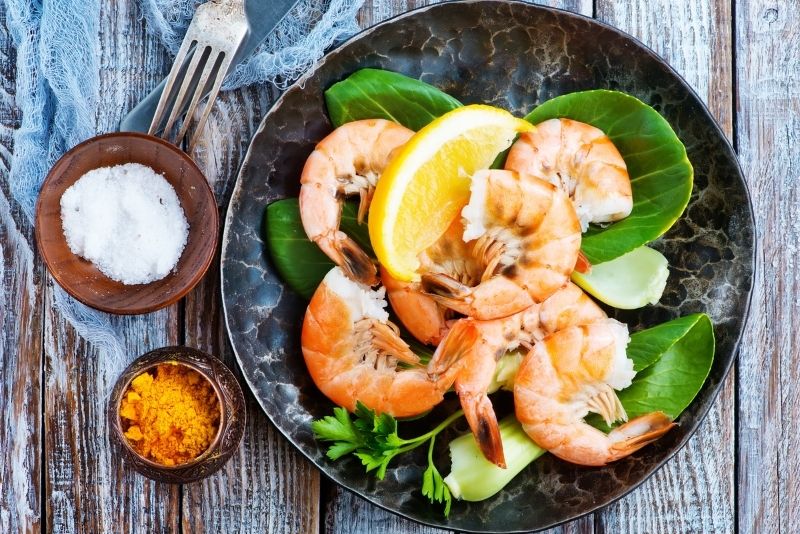 Thanks largely to its rich Spanish and Mexican influence, SoCal is teeming with enviable places to eat — and Orange County is no exception.
El Torito in Westminster is famous for giant margaritas, but the sizzling fajitas aren't to be overlooked either. If it's seafood you're after, look no further than The Dock in Newport Beach for its fresh-off-the-boat seafood, or try A Restaurant around the corner for some hearty contemporary American fare.
Craving a steak? Hanna's Prime Steak in Rancho Santa Margarita is far from the most budget-friendly eaterie in town but its cuts are, by all accounts, to die for.
For some Asian fusion look no further than LSXO, or if cheesy high-quality pizza and pasta is your thing, Da Bianca Trattoria won't disappoint — the penne with chicken and vodka sauce is always a winner, likewise the lasagna.
50 – Visit the Sawdust Art Festival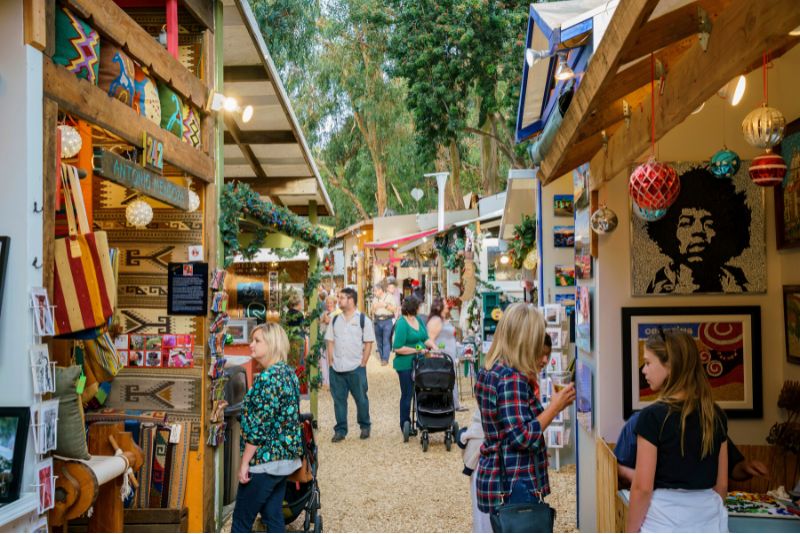 No matter which season you visit, a trip to the Sawdust Arts Festival is a must for culture fans!
Held twice a year in Laguna Beach – once during the winter, and once during the summer -, this lively and beloved local event celebrates the work of creators in the community.
The result is a smorgasbord of shows, hands-on classes, and an incredible array of items to peruse – or even to buy!
From woodwork and jewelry to ceramics, sculpture, and woven pieces, there's no telling what kind of delights you'll find here – but high-quality work is guaranteed!
51 – Release your inner Maverick at the Flightdeck Flight Simulation Center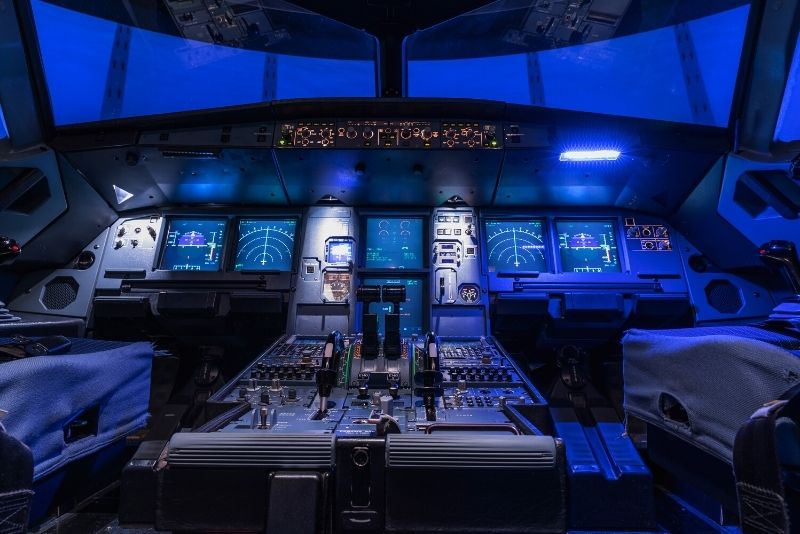 Take to the skies at Orange County's only flight simulation center, where you can pilot a commercial airplane or helicopter through an array of challenging scenarios, learning how to perform difficult aerial maneuvers and take part in air-to-air combat without ever leaving the ground!
With different durations available to suit different budgets, as well as the chance to operate the simulator from the actual Boeing 737 cockpit (or a fighter jet) — this is an experience that every aviation enthusiast and any holidaymaker looking for a truly unique way to pass the time should check out.
52 – Lean about bygone years at the Old Orange County Courthouse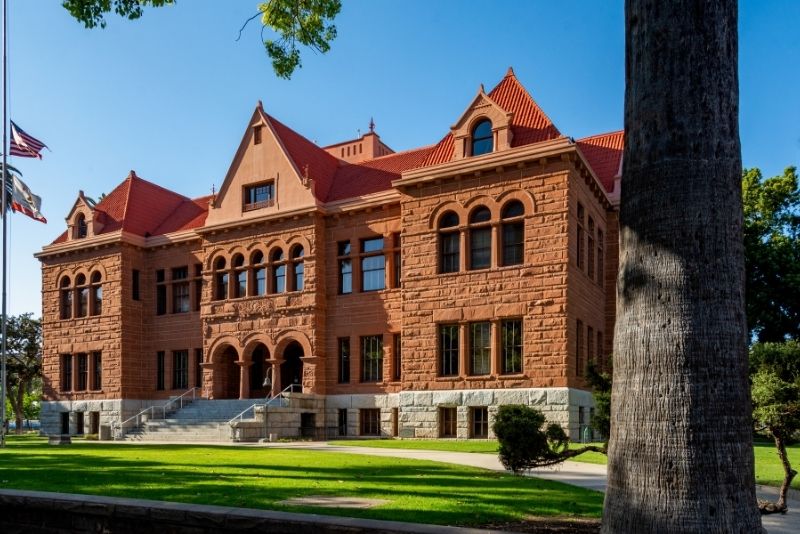 A slice of history in the heart of downtown, this 120-year-old beautiful sandstone building is one that you won't want to miss.
This historic treasure has been lovingly restored and now offers an exciting peek into Orange County's past — with regular (and free) self-guided tours available, there's no reason not to get a little insight into this building and the tales of yesteryear.
Throughout the California Historic Landmark, you'll find three separate attractions: the Old Courthouse Museum, the Orange County Archives, and the library of the Pacific Coast Archaeological Society — all part of the Orange County History Center.
53 – Learn about an iconic politician at the Richard Nixon Presidential Library & Museum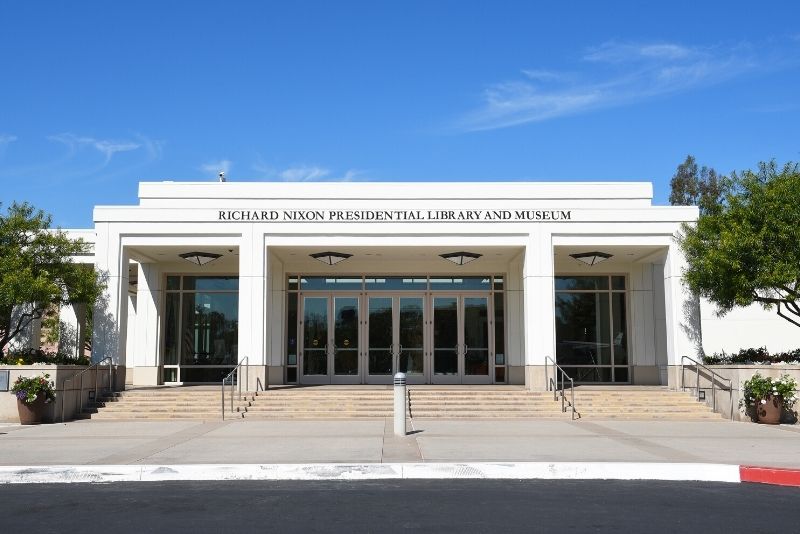 While the birthplace of this former President is in Yorba Linda, it's actually his Presidential Library and Museum that takes center stage for history and politics buffs when rolling through Orange County.
Focusing on Nixon's time as both a Congressman and a Senator for California in the late 1940s, this museum also remembers his tenure as Commander-in-Chief during World War II.
But that's not all! Packed with rare footage, audio clips, and interactive exhibits — including a full replica of the East Room of the White House that is used as an event space — this museum also takes you through Nixon's life after time in the limelight too.
54 – Break out of an escape room!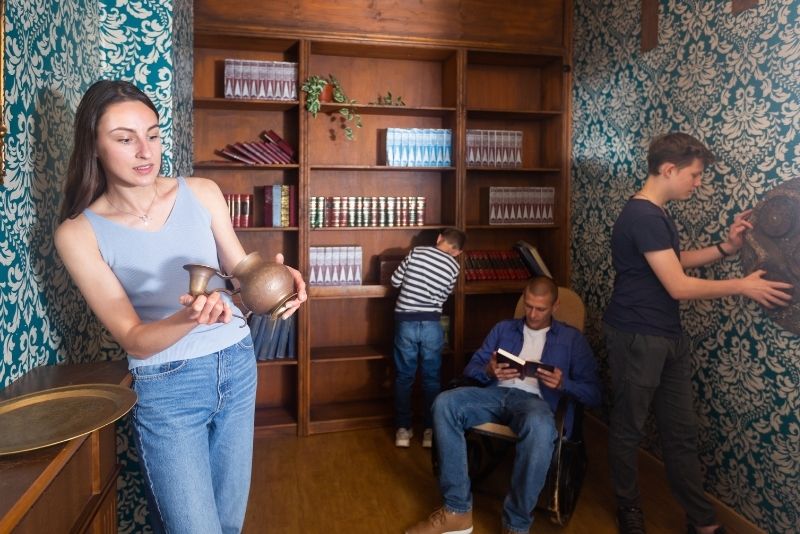 Are any budding detectives out there? With your wits tested to the extreme and your problem-solving skills required to be at their very best, escape rooms are an exhilaratingly interactive experience that invites groups of friends or families to solve, once and for all, who is the true Sherlock Holmes of the team.
This brain-busting, team-based activity requires you to find clues and solve puzzles within a set time frame in order to progress through the game; it's challenging but fun, incredibly rewarding when complete, and will likely leave you with huge amounts of respect for the real-life Morse, Holmes and Poirot's of this world!
With a range of different themes at multiple locations across the Country — the classics like a prison break, heist, and gold rush, and more quirky themes like Jester's Escape and the American Revolution — there's always something new to try!
55 – Pamper yourself at a spa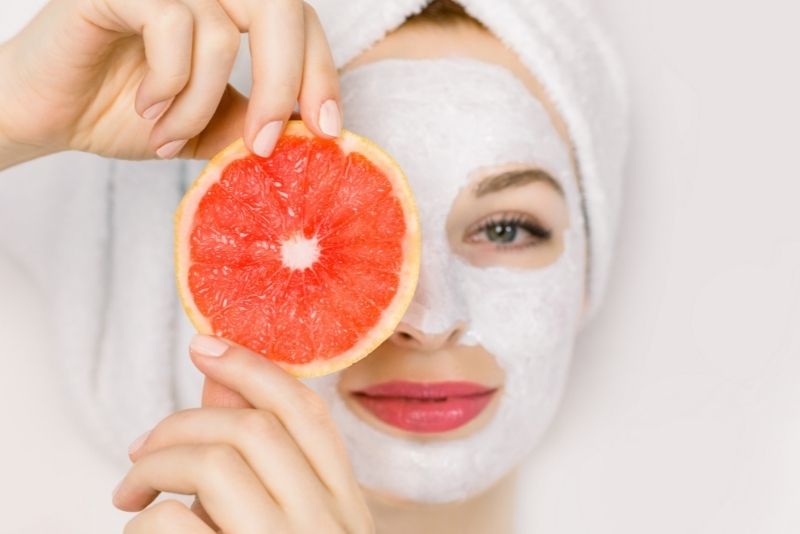 Throbbing headache from the night before? Or simply tuckered out from all that walking around and exploring? Treat yourself to a day of total relaxation at one of Orange County's best spas.
With a range of diverse pampering options in the heart of Newport Beach, Anaheim, and everywhere in between, the area is an R&R haven that offers everything — from massages and facials to acupuncture treatments, hot stone sessions, aromatherapy, and reiki healing.
Ease into the whirlpools or the eucalyptus steam room at Spa Montage Laguna Beach, or enjoy the nail treatments and massages at The Spa at Pelican Hill.
Gaze out at the ocean while you soak up an antioxidant facial at Aquaterra Spa at Surf & Sand Resort, or try the unusual treatments at the Waldorf Astoria Spa, such as rosemary peppermint pedicures.
Keen to try something new and different? Orange County is also home to Salt Caves, floatation therapy, and infrared therapy.
Hot tip: To save up to 60% off, make sure to book online in advance.
56 – Spend half a day at the Santa Ana Zoo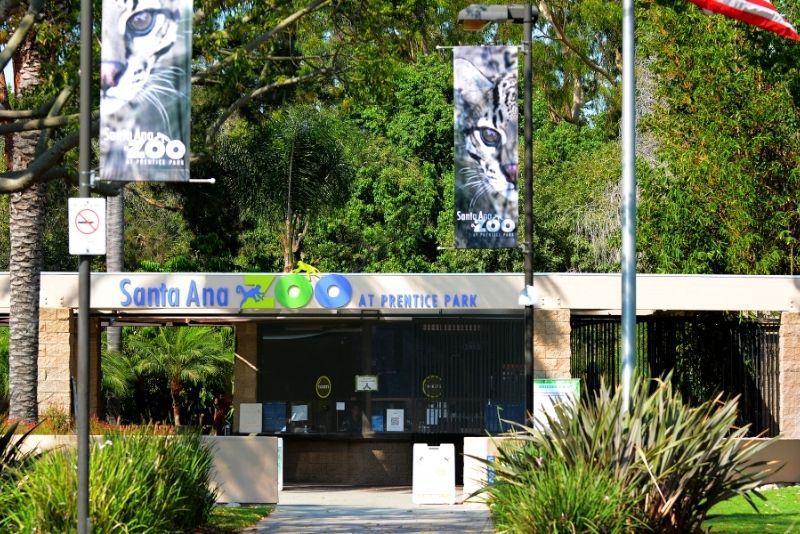 Although this community zoo in the heart of downtown Santa Ana may not be as large or well-known as some others, it's definitely worth a day out to see its amazing collection that dives deep into the ecology and wildlife of Central and South America.
With 250 different critters calling this zoo home, including primates, big cats, reptiles and birds — as well as a wonderful walk-through aviary and kid-favorite train ride, it makes for a great family day out and is a great way to get an up-close look at the local flora and fauna!
57 – Peer into a world of impressionist landscapes at the UCI Institute and Museum of California Art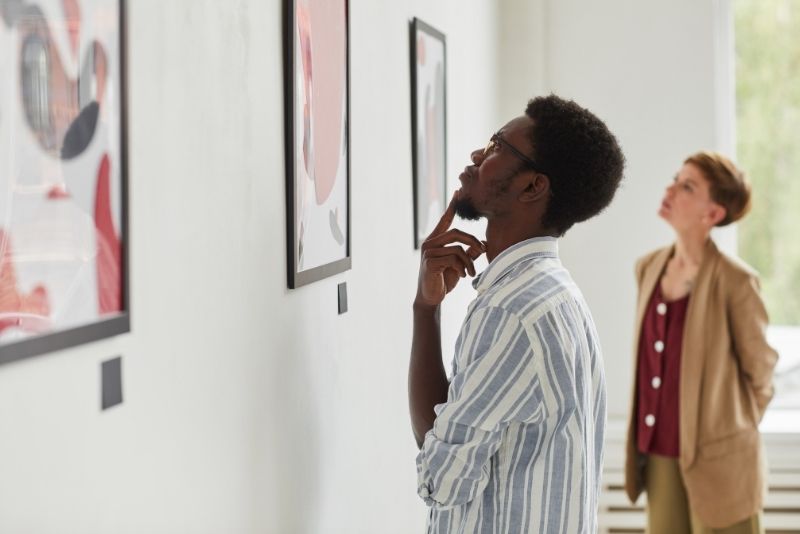 The new kid on the block as far as Orange Country museums are concerned (established recently in 2016), IMCA on the University of California Irvine campus has quickly shot to fame thanks to its formidable collections of both impressionist and to Post-War contemporary art dedicated largely to showcasing the unimpeded beauty of California's rural landscapes.
Specifically, the Irvine Museum Collection comprises over 1,300 California Impressionism and plein air paintings, while the Buck Collection showcases over 50 paintings and sculptures from the former private estate of Gerald E. Buck.
58 – Rev the engine at the Marconi Automotive Museum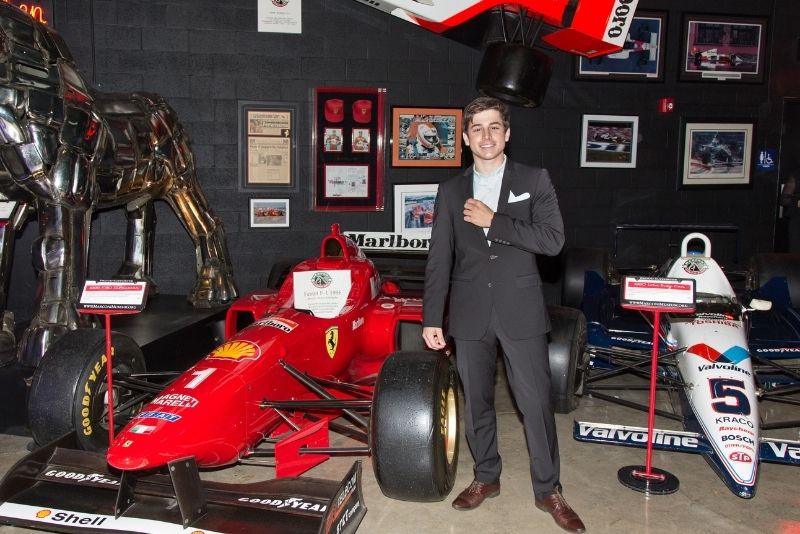 Petrolheads, this one is reserved especially for you! Located over in Tustin, this automotive museum serves up an impressive roster of classic cars, famous cars (including some of the most iconic cars in film and TV history like the Batmobile and Knightrider), and rare cars.
Besides the impressive collection of cars on display, the museum also hosts Cars & Coffee events and offers up occasional exhibits exploring various aspects of motoring history.
Keep in mind that the museum is closed on Sunday and Monday.
59 – Shop till you drop at The Outlets at Orange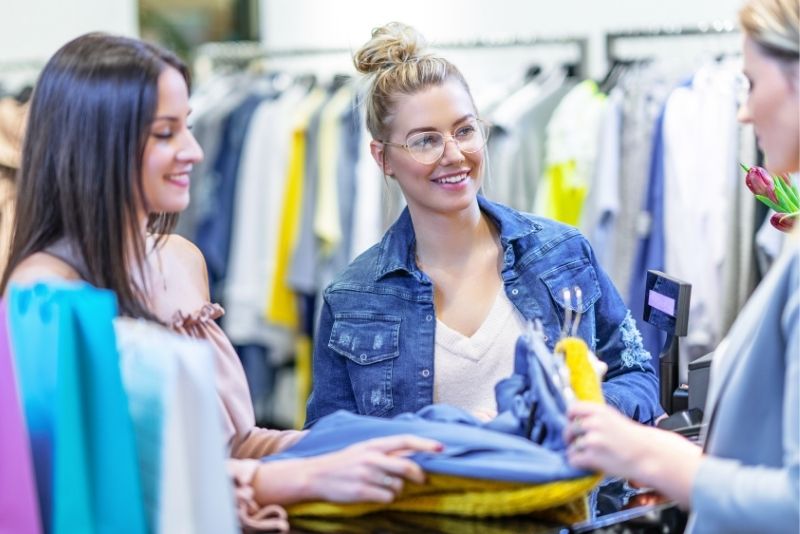 Shopaholics, listen up!
An eclectic mix of over 115 stores and brands, The Outlets at Orange is a must-visit for all those who love to splash some cash on new fashion trends, eye-catching accessories, and new-release electronics.
With everything from the Banana Republic, Saks Fifth Avenue, and Tommy Hilfiger to Michael Kors and Armani Exchange (not forgetting Sephora), it's an affordable alternative to the glitzy malls in Los Angeles and a great way to spend the day (so long as you don't max out the credit card).
60 – Enjoy a Medieval Times Dinner & Tournament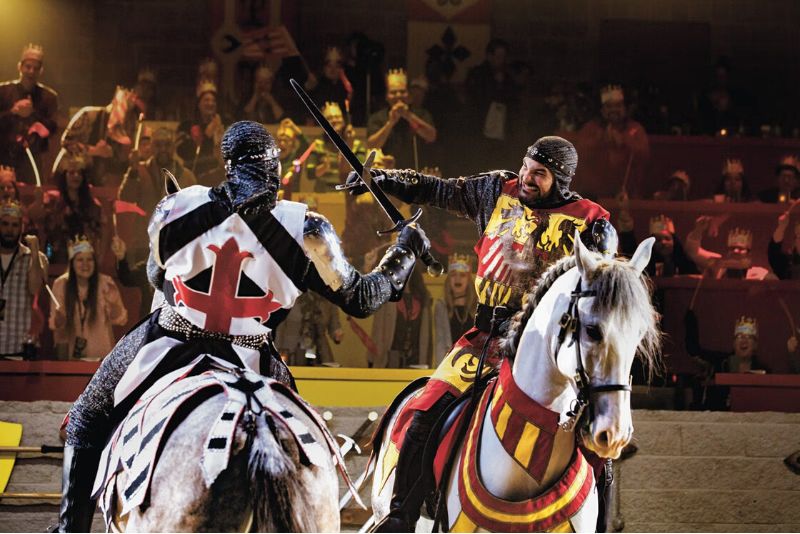 Have you ever wanted to take a journey to olden times… while still enjoying some world-class food and entertainment?
Then head over to Medieval Times and get ready for some old-school action… really old-school!
This classic theater takes the dinner and a show concept to the next level, with jousting, horseback tricks, and epic duels all taking place just feet from your seat.
As you watch the epic and fun-filled display, you can also enjoy a delicious four-course meal, and feel a little bit like royalty yourself!
61 – Soar over Orange County with an airplane tour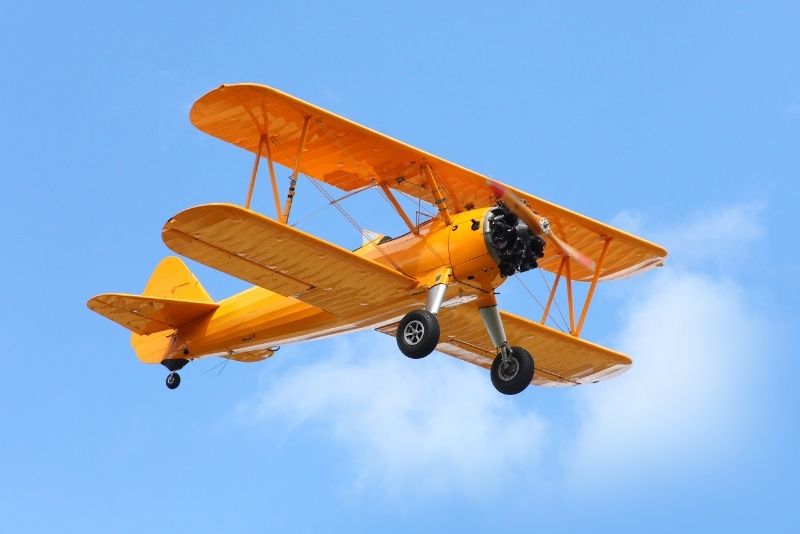 A popular activity for adrenaline junkies and anyone hunting for a bird's eye view of the region — with Los Angeles' skyline in one direction, the sparkling Pacific in the other, and the rolling hills of the San Bernardino mountains in the distance — flying tours are an excellent way to take in all that Orange County has to offer.
From short scenic flights over Disneyland to longer excursions across Southern California, and even paragliding flights if you want the awakening feeling of wind in your face, there's plenty to choose from.
62 – Drift around corners in a go-kart at K1 Speed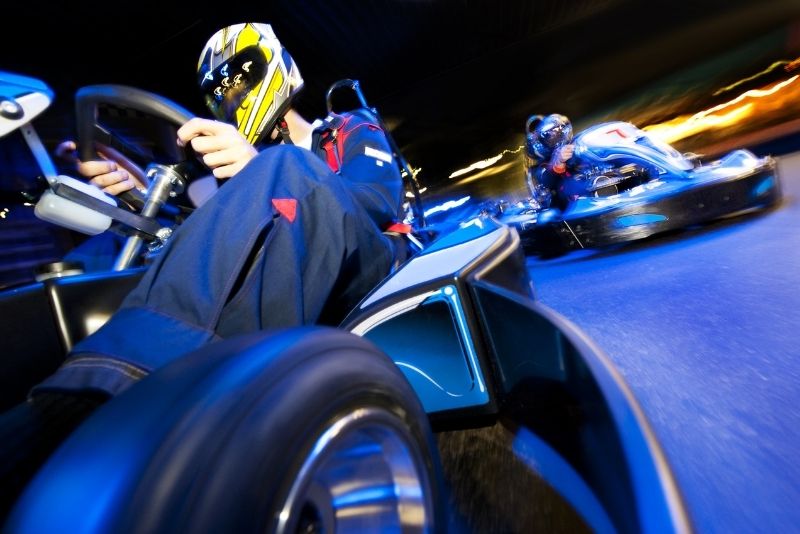 One for the speed demons who crave the smell of burning rubber, the K1 go-kart track in Irvine is a serious adrenaline kick — and the undisputed place to go for indoor karting in Orange County.
While you'll be hurling around the twisting and turning track at speeds approaching 45mph, the center also boasts a VR zone home to the gaming phenomenon that is Mario Kart Arcade GP VR!
With catering options and plenty of private rooms, it's a solid choice for birthday parties too.
63 – Have fun at the best bars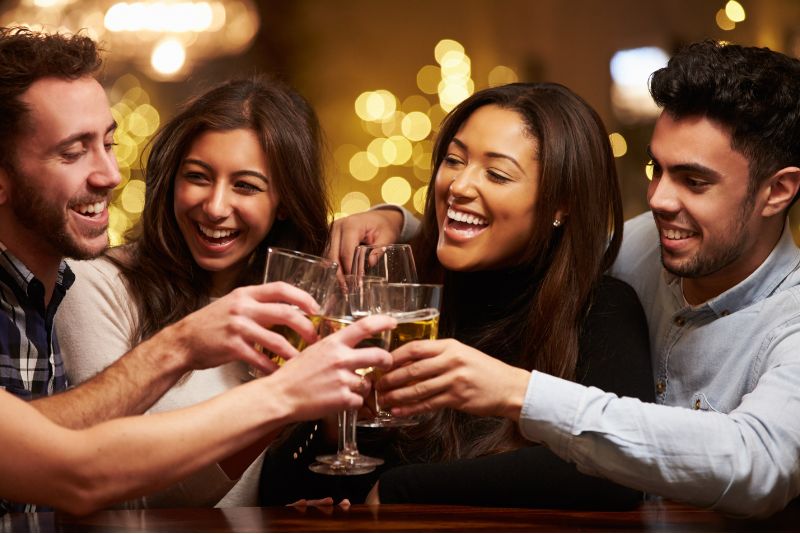 While the OC's bar scene may not get as much attention as the nightlife in neighboring areas, it certainly punches above its weight class when it comes to watering holes!
Relax in the velvet-accented splendor of Under CdM, or try the globally-influenced cocktails (and cuisine!) at Vacation Bar, where every drink is a distinctive experience unto itself.
And don't miss the scenery at Top of the V, which combines delicious, creative drinks FIX with unparalleled views of the surrounding area – including the iconic fireworks display at Disneyland!
64 – Watch the sunset from San Clemente Pier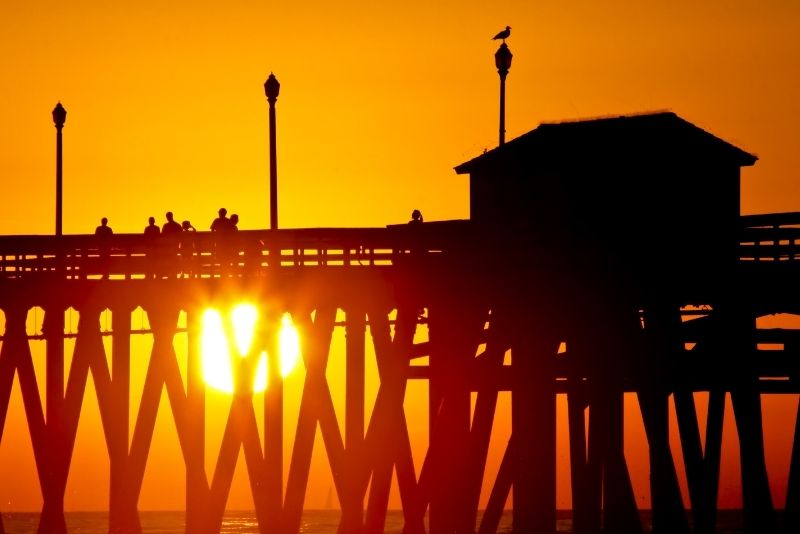 A magnet for surfers, sunset-seekers, fishers & anglers alike, the San Clemente Pier is an ideal spot to enjoy a day by the sea.
Jutting out into the Pacific Ocean, this beloved local landmark provides some truly stunning views out across the ocean, with the pier's beachfront location making it perfect for enjoying both lunch and an evening feast.
Looking to stretch your legs? The Pier sits roughly halfway along the San Clemente Coastal Trail, a 2.5-mile stroll that connects San Clemente State Beach and North Beach.
65 – Have a Pirates Dinner Adventure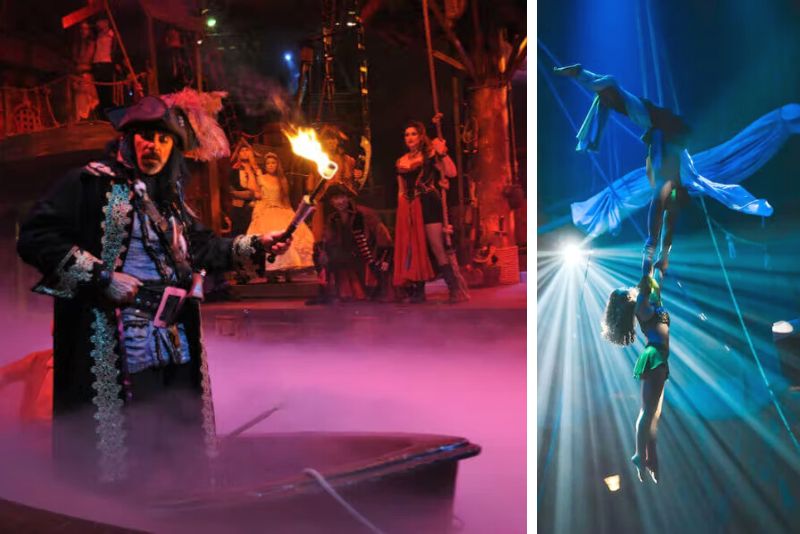 From the castle walls to the high seas… there's never a dull moment in this area!
Pirate enthusiasts and buccaneers in training will love this high-energy spectacle, which features acrobatic, theatrical pirates as they battle it out aboard a massive Spanish galleon.
As the cannons roar and the swords fly, you'll feel like you're part of the action – and you'll get to enjoy a great meal while you watch!
It's the perfect family-friendly blend of action, comedy, and high-caliber performances… and if you're lucky, you may even get inducted into a swashbuckling crew at the end!
66 – Update your wardrobe at Fashion Island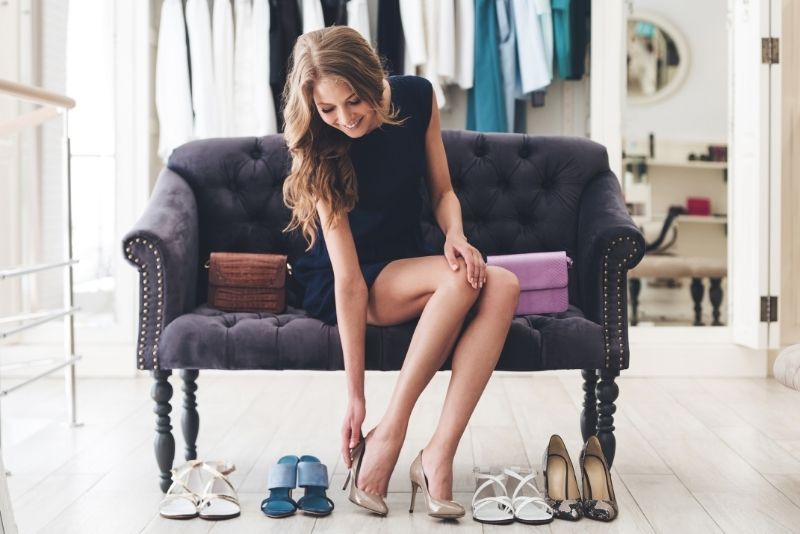 Located just inland from Newport Beach, this upscale outdoor shopping center boasts over 150 stores and is surrounded by abundant dining opportunities (more than 30 restaurants all up!).
With its own dedicated parking structures adjacent to each wing of shops (in addition to free street parking) it's never been easier or more fun for visitors to spend an afternoon browsing through some of Orange County's finest boutiques and department stores — from the likes of Nordstrom and Bloomingdale's to Elie Tahari, Zadig & Voltaire and St. John.
67 – Enjoy a show at FivePoint Amphitheatre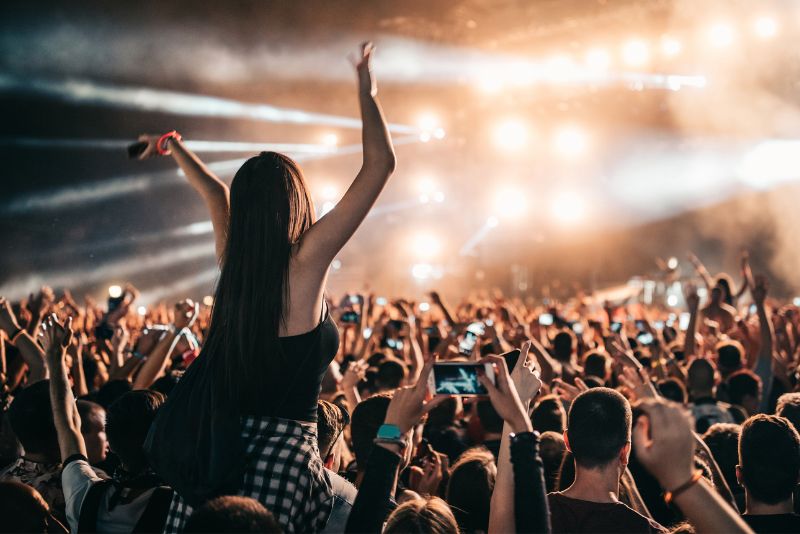 Since it opened in 2018, this spacious venue has offered world-class concerts for residents of Irvine and the surrounding towns.
Boasting 12,280 seats and framed by stunning mountain views, it's the perfect place to catch touring acts, local headliners, and everything in between.
And in between shows, you can also sip on a cocktail, wine, or beer, or enjoy some phenomenal food options, ranging from Korean and Mediterranean offerings to classic hot dogs and burgers.
There are few better places to enjoy a show!
68 – Get artsy at the Festival of Arts and Pageant of the Masters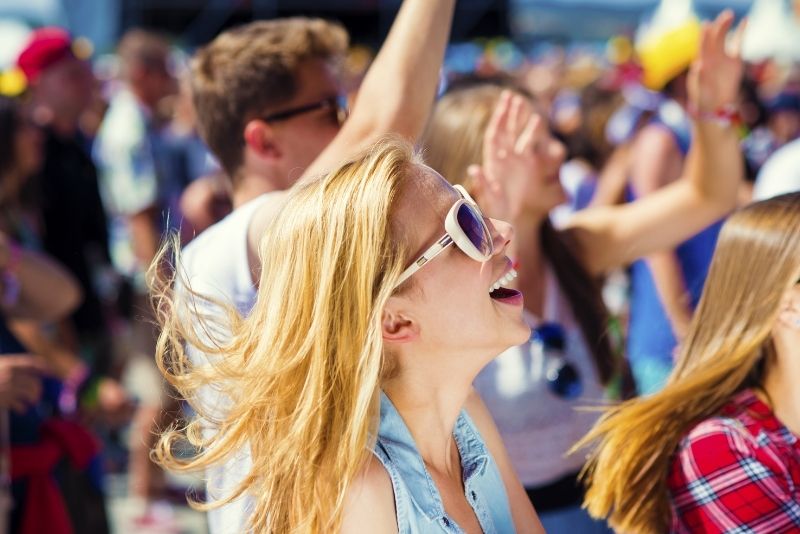 A must for the culture vultures and arguably one of the best budget-friendly things to do in Orange County if your visit lines up, the annual Festival of Arts and Pageant of the Masters is a fun-filled summertime celebration that takes place eight weeks each summer in July and August at Laguna Beach.
Drawing crowds not just from California but from all around the world for the better part of 100 years, the festival explores visual arts with a focus on living pictures (actors and immersive dioramas) as well as painting, photography, ceramics, printmaking, and sculpture.
69 – Hit the dancefloor at a nightclub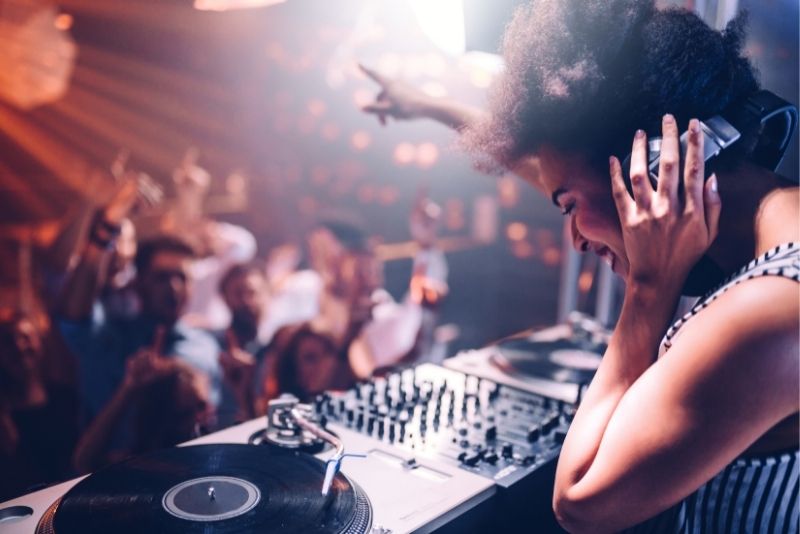 Fancy a night out on the town, music blaring, dancefloor rocking, and drink free-flowing till the early hours of the morning? That sounds like a blast, right? While LA gets all the hype, Orange County is certainly not short of happening nightlife!
Over in Costa Mesa, Time Nightclub is considered one of — if not the — best clubs in the region, with 13,000 square feet of dance space and mosh pit making for an electrifying stage to witness some of the area's most renowned DJs strut their stuff.
At the Anaheim Gardenwalk, not too far from Disneyland, you'll find Heat Ultra Lounge — with enough space for nearly 1,000 partygoers, the venue boasts VIP zones, multiple full (and relatively affordable) bars, an outdoor patio and state-of-the-art lighting and sound system sure to liven up the mood.
If you're after somewhere near the coastline, head to The Circle in beautiful Huntington Beach, or try out the new and upscale Newport Beach nightclub, Legacy, where a 150-square-foot video wall ignites a modern flare.
How to get to Orange County?
If you're flying into the area, you have several airports to choose from, including LAX, John Wayne Airport, and Long Beach Airport.
Whichever option you choose, book a transfer to get to and from your lodgings with ease, and enjoy fast, professional service – perfect for this traffic-heavy region!
Just sit back, relax, and let the drivers take care of the rest!
Where to stay in Orange County?
Smack dab in the middle of Anaheim, the Viv Hotel welcomes guests with delicious restaurants, a top-notch gym, and a palm tree-fringed pool perfect for enjoying some fun in the sun.
And at Ayres Hotel & Spa Mission Viejo, you can kick back at the bar, go for a swim, or give yourself the full luxurious experience with the many wellness options on-site.
Renaissance Newport Beach Hotel provides luxurious amenities, a charming sundeck, and even some tennis courts where you can practice your backhand.
Or live a slightly more elevated version of the surfer bum life at Capri Laguna on the Beach, where you can enjoy the sand and surf just steps from your room, or check out nearby hotspots like the Laguna Art Museum.
You can also head over to Ayres Hotel Laguna Woods, where the pool and hot tub make the perfect refuge after some sightseeing… or just hang out by the fireplace!
Where to go next?
While every town in Orange County offers its own adventures, there are also tons of great spots to explore just a short drive away!
Of course, no trip to the region would be complete without a stop in Los Angeles, the home of the movies and their stars; but along with the glitz and glamor, it offers tons of great museums, gorgeous outdoor areas, and unique neighborhoods that boast their own vibrant cultures and sensibilities.
Or head a little bit east to enjoy the mellower vibes of Palm Springs, an idyllic desert getaway that combines boutique experiences and iconic architecture with easy access to some truly stunning hikes and natural scenery… and even a banana museum!
And if you head south, you have the cultural institutions, bustling food scene, and awesome beaches of San Diego, where the cosmopolitan culture keeps growing, but the classic Southern California vibes are still alive and well.
Final Thoughts
It's been drawing tourists for years, but trust us… there are more things to do in Orange County than just go to theme parks!
Combining high-class entertainment and top-notch dining with beautiful beaches and unique family entertainment, it's the kind of place where you'll feel like a local instantly… or at least, feel insanely jealous of them!
So grab your sunglasses and some nice shoes, and get in a West Coast state of mind!
Source Credit: Tourscanner